Born in the '20s, especially popular in the 1930s, DORMANT FOR FOUR DECADES, then revived in the 1980s, Lindy Hop seems to come from another planet.
Its energy and crazy aerials, together with the vintage clothes and hairstyles, transport the audience a century back in time.
And YES, we all want to go back to the roaring 20s, anytime, anyhow.
Your Guide
   Alexandra Romanmi
With its roots in the African American communities of New York, later on, popularized by Hollywood actors like Dean Collins…
…the Lindy Hop made its way both in social spaces and on the stage back then and now it made it somehow made its way into YOUR LIFE.
If one of your LOVED ONES is a Lindy Hopper, then you're guaranteed to always have a fun time when they're around.
They have their heads up in the clouds (quite literally) all the time.
They're among the MOST ENTERTAINING DANCERS I've met and if you know the one you probably agree.
There's no surprise that the most famous Lindy Hoppers of all times, the Whitey's Lindy Hoppers, were known as Whitey's Lindy Maniacs, Whitey's Hopping Maniacs or even The Harlem Congaroos.
These people know how to set the dance floor on FIRE.
And you are quite sure that they're going to be the SOUL OF THE PARTY wherever you end up together.
They're born to DANCE AND ENTERTAIN!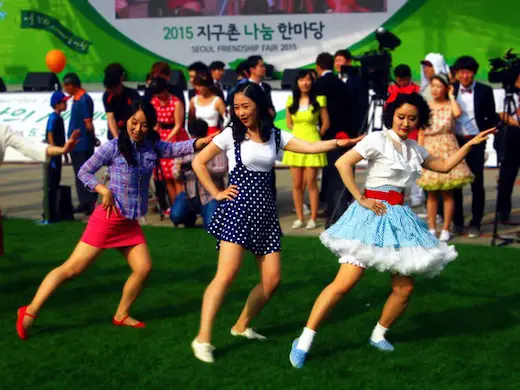 If it's time for you to show them your appreciation by buying them a gift and you're out of ideas, I'm here to help you.
They may seem intimidating as they usually have these BIG LOUD and colorful characters, but at their core, they're all sensitive artists.
And that's what we SHOULD THINK about when coming up with gift ideas for them:
Little things that will touch their heart and
Remind them of YOU and your appreciation for their craft will work the best.
The temptation to buy them a vintage piece of clothing can be very hard to RESIST, but unless you know their taste extremely well, I'd say don't take that risk.
Dancers can get PRETTY SPECIFIC about their dancewear, so it's better to let them purchase it.
Finding a unique piece of jewelry or an accessory for them to wear all the time is probably THE BEST WAY to go about it.
I have recently found a HIDDLE GOLD MINE in terms of handmade Lindy Hop-themed accessories. They are so hard to find!
Amy Hood Illustration website is a place you want to visit if you are looking for a cool gift idea for your dancer's loved one.
My favorite item there is the Tacky Annies Double Pin Badge.
First of all, what is Tacky Annie?
It must be related to Lindy Hop, right?
Oh well, it is.
It is the fourth move of The Shim Sham Routine, which IN TURN it is a famous routine performed by the equally famous Lindy Hop dancer Frank Manning.
Your loved one certainly KNOWS ABOUT IT!
The Lindy Hop Moves website teaches you the entire routine online, so who knows maybe you'll learn it yourself.
NOW, back at the double pin badge, I was telling you about. It is a very well-designed handmade item featuring two figurines, a man and a woman dancing, you guessed it, LINDY HOP.
These brooches are hand-cut from shrink plastic, are approximately 6 cm in height and are coated with a clear acrylic spray.
Here is how it works.
The fixing style is based on metal clutches on the back of the pins.
They can both be worn by your loved one or you can suggest that one stays WITH THEM and the other one should go to their partner.
This way they can mark the artistic bond that has been created between them. I am sure they'd appreciate that thought.
Along with the pins, I suggest you also add a piece of jewelry from THE EXACT SAME Tacky Annies collection.
This pair of earrings featuring the same dancer figurines is also handmade and is perfect for ladies.
If you feel particularly INSPIRED by what you find on this website and want to draw the images for the badges yourself, just give it a try.
Maybe you can personalize them by MAKING THEM feature figurines of your loved one. I'm sure that would surprise them.
Here's a Do It Yourself video walking you through all the steps you need to take in order to make pins at home.
All you need NOW IS A DRAWING  of your loved one. Go ahead and try it and of course feel free to share your results with us!
Useful Links