I've spent most of my childhood studying classical ballet which is a quite rigid, but absolutely ENCHANTING art form.
My ballet teacher was a severe and distinguished old lady who trained under Russian choreographers at the Mariinsky Theatre in Saint Petersburg.
Your Guide
   Alexandra Romanmi
I was taught to perform in a very disciplined manner, respecting very strict rules in terms of movement and rhythm.
I got used to it and I LOVED it!
However, I knew there was more to dance than the style I was trying to master.
I always thought that a complete dancer should know as many dance styles as possible in order to become a fully well-rounded performer, so I started searching for INSPIRATION.
A few years back, I had the great pleasure to see Juan "Pachanga" Matos, one of the most INFLUENTIAL latino dancers of our generation, perform at a festival in Vancouver.
 Born in a family of top hustle dancers, Juan Matos is an amazing performer and also one of the reasons I started taking salsa dance classes.
While I managed to find the right pointe shoes for my ballet classes quite easily…
..I developed I love-hate relationship with salsa shoes (latino dance shoes in general).
I couldn't quite figure out what the best option is and my feet had to suffer.
In the end, I've found some models that work –at least for me – so I'll recommend them to you as well.
Not spending a FORTUNE on dance shoes is a great idea, especially if you're not sure you're going to love the style you are taking up or not.
This was my case when I first started salsa classes, so if you're in a similar situation, keep reading!
My number one choice became the TT Dancewear Rhinestone Shoes.
I know, they're not the FANCIEST, but they did their job so well, it would be a shame not to recommend them.
They come with a beautiful satin upper with an open toe box. They are very comfortable and flexible, making dancing in them easy and not extremely tiring for your feet.
The stable flared heel comes in two versions: you can choose between the 2.5" or the 3" one, according to how confident you feel in your ability to dance on heels.
Given the fact that until I started to dance Salsa, I've only trained in flat shoes, you can imagine which one I've chosen for myself.
The double ankle strap with a QUICK release buckle keeps the shoes well secured to your feet. They are available in lots of colours, such as red, black, white, nude, tan, silver gold and blue.
The heel and upper are covered in tiny sparkly rhinestones, which look very nice in the spotlight, making your feet (literally) shine.
The sizes range from 5.5 to 10 and they usually fit as expected, so you should go with your street shoes size.
Pros
500+ people on Amazon agree with me. The shoe has a score of 4.4 out 5.
The combination of satin and rhinestones is very feminine and it gives me confidence on the dance floor.
They're flexible, lightweight and comfortable, yet very affordable.
Cons
They're not the most durable dance shoes you'll ever own. Mine started to slowly tear apart after the first year of classes.
The insole lining is not very absorbable.
Aida Dance comes with a FANCIER model I recommend to the professional salsa dancers, the beautiful and delicate Nikolishina 071E shoe.
Named after one of the most talented and sensual ballroom dancers, Maria Nikolishina.
They are 100% customizable, like most of Aida's products.
They feature a very useful adjustable toe box that will allow you to make the shoe fit perfectly, according to the way your feet may change throughout time.
You can choose between a flare or a slim heel with a height of 2", 2.5", 3", 3.2" or 3.5".
The toe box can be round or square, but I normally PREFER the round one. The upper can be made of satin or leather, according to your preference. I recommend leather as it is more durable.
The double strap secures the shoe to your feet and it gently emphasizes the shape of your ankle, making your legs look very feminine.
You can even choose the colour of your sole: it can be regular, red or black suede. There are also heel protectors and replacement heel tips you can add to your order.
If you feel like getting super FANCY you can also add rhinestones to your shoes, although that will add a few hundred dollars to the base price.
They are available in sizes ranging from 4 to 9 (US) with extra narrow, narrow, regular, wide and extra wide models.
The colours they chose for this model are very elegant with golden, tan, nude and silver shades.
Pros
They were designed with the dancer's needs in mind: they are comfy, flexible and the grip to floor is excellent.
I usually avoid subscribing to various website, but Aida's newsletter is actually fun to receive. They let you know about exclusive discounts and they keep you up to date with dance competitions and shoe related tutorials. And you get 500 Aida Points you can use for your next purchase.
I love how customizable they are. You can basically design everything about your shoe.
Cons
They are high-end shoes and with all the customization included, they can get pricey. So this investment actually requires a commitment to your dance style.
The insole could be better padded.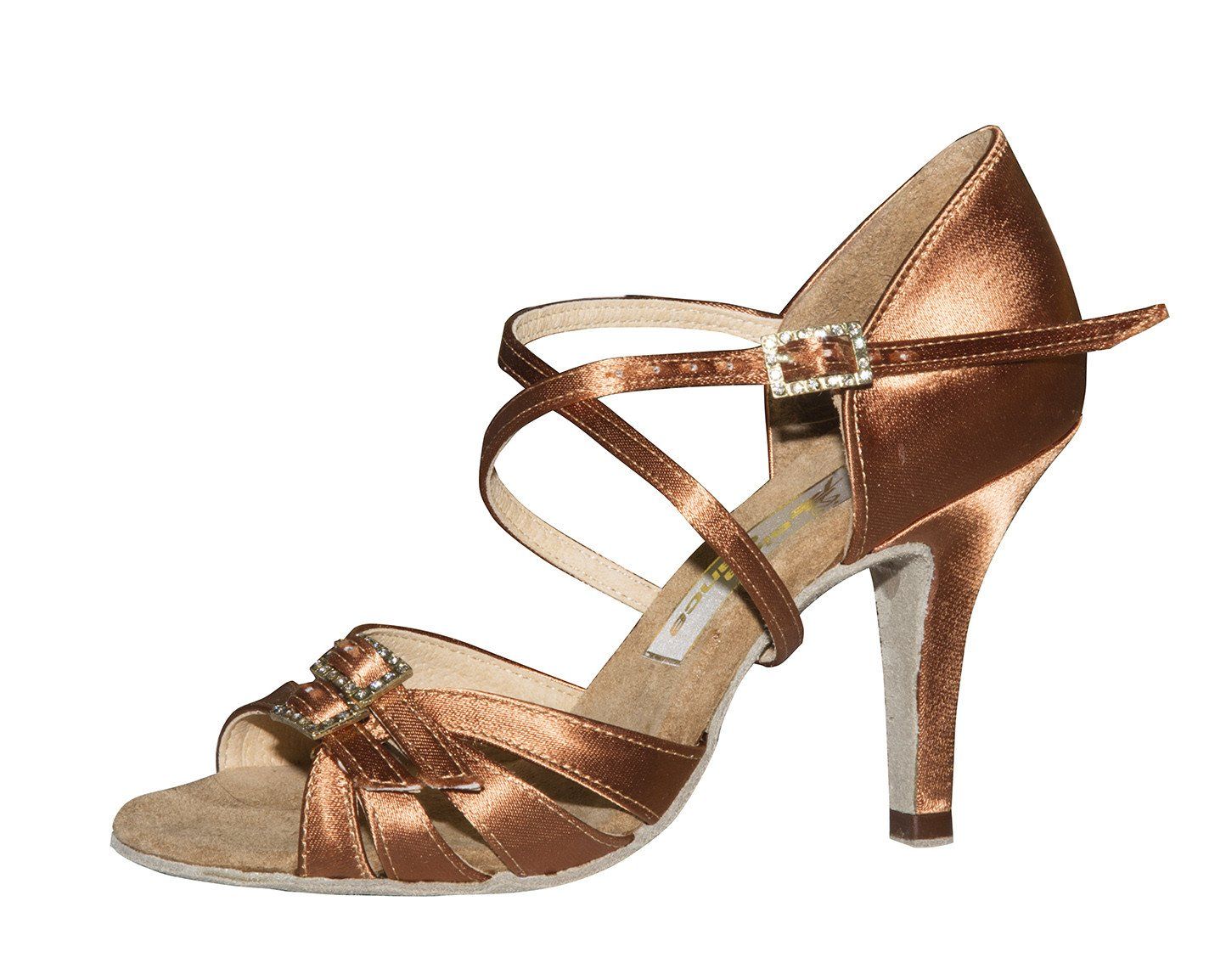 Nikolishina (071E) By Aida Dance
Diamant's Salsa and Latin range is a very ELEGANT collection of shoes.
The shoe company started manufacturing dance shoes in 1873, so you can expect footwear designed with your needs in mind. This model is very delicate, yet easy to dance in.
The upper is made of synthetic materials, with soft mesh inserts that make it very breathable. The cutaway sides and the peep-toe design show off the natural lines of your foot, aong with your pedicure.
The cross ankle strap is very stylish and it does a good job at keeping the shoes tied to your foot. The foot bed is SOFTLY cushioned and along with the 2" flared heel, it offers the right support for all your exotic turns.
The sole is made of leather or echter leder – yes, they're made in Germany –so it will have a really good grip to the floor.
They are available in sizes ranging from 35.5 (EU) to 42 (EU). The model is available in silver.
Pros
The design is very simple and elegant.
They are flexible, and offer good arch support.
The heel is flared offering stability – a much needed feature for both beginners and professionals.
Cons
They are quite narrow, with no wide option available.
The only colour they have for this model is silver which can sometimes be hard to match with your dance outfit.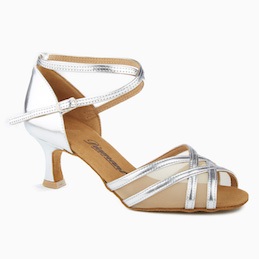 Diamant Remi Latin & Salsa Shoe
With over five decades of experience in manufacturing ballroom dance shoes, Supadance started as a small family business in London.
Today, they make one of my FAVORITE salsa shoes, the exquisite Dark Tan Satin Shoe Style 1057.
It doesn't have a fancy name, but it does have some impressive features, such as the adjustable toe box straps.
I really like this idea, as my feet swell sometimes and being able to release some pressure in the toe box area is very handy. The high quality satin upper makes for a very stylish pair of shoes.
You can choose between a 2.5" or 3" stiletto heel and a 2", 2.5" or 3" flare one, depending on your own tastes and abilities.
I normally prefer the flare type, as it offers more balance, than the thin stiletto one.
The sole has good grip to the floor, as they are especially designed for competitive dancers, performing on a variety of floors at championships across the WORLD.
They feature a slim ankle strap with a squared crystal hook buckle that adds elegance to the model.
The high arch insole offers good support and makes them comfortable to wear during long competitions. The size ranges from 2 to 8 (UK) and they are available in a dark tan shade.
Pros
They are stunning and they'll attract lots of compliments.
The adjustable toe box is very useful.
There are many options in terms of your heel style and height so you can start with a low flare one and then upgrade to a high stiletto one as you gain confidence on the dance floor.
Cons
This model is only available in a dark tan shade. I would have loved to have more options.
The insole could benefit from a little more padding.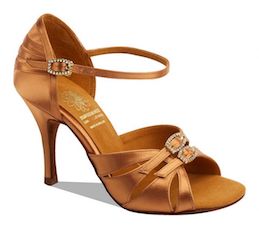 Dark Tan Satin Style 1057 By Supadance
Conclusion
I'm very curious what pushed you towards learning SALSA. For me, the moment I saw Juan Matos dance was the one I knew I had to learn it.
What was it for you?
Also, I've already told you I believe a good dancer should know more than one style in order to become a brilliant performer.
What are your favourite styles? How different are they? And how do you manage to make the transition between one the others?