Potential New Face of Boxing
Rehydration clause to 146lb and catch weight 136lb does not favor taller, bigger Ryan Garcia
Tank has a slight advantage on Defense and power over Garcia
New Face of Boxing
Among all the fighters right now, who do you say is the face of boxing?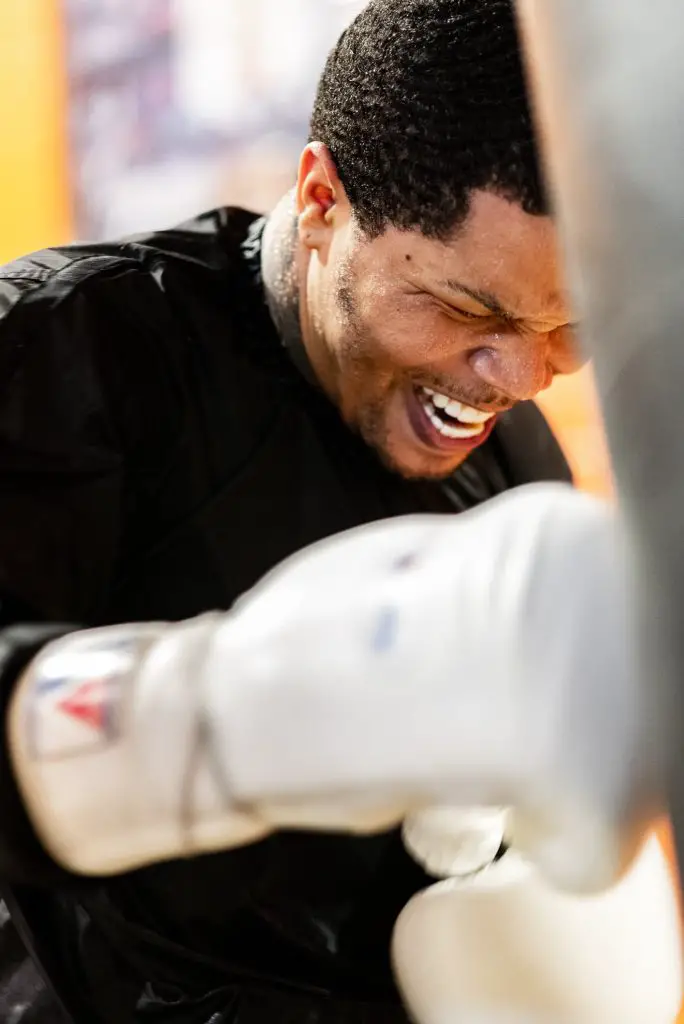 Some people say Canelo and many boxing experts believe he will lose again in the Bivol rematch and have received criticism from boxing fans for not fighting David Benavidez.
We have Caleb Plant vs David Benavidez coming up, which is very exciting!
Anthony Joshua had lots of brand marketing and is a likable superstar, but he lost a couple of fights in a row to Usyk.
An argument could be made similar to how Mike Tyson, Manny Pacquiao, Floyd Mayweather and Muhammad Ali were the once clear faces of boxing. It would be a bit challenging to pin out where we could definitely say right now this guy is the face of boxing.
We could go through the top 10 pound-for-pound list of who stands out the most as the new face of boxing after the Mayweather and Pacquiao Era. Interestingly neither Gervonta Davis nor Ryan Garcia is currently not even on this top 10 pound-for-pound list; however, marketing and skill-wise, they have good potential.
Errol Spence and Terrence Crawford are slowly leaving their prime years and still have not fought each other. Even though these superstars are super talented, they don't have a huge following similar to Floyd Mayweather and Manny Pacquiao in the last decades.
In 2023, Lightweight is stacked with young talent: Devin Haney, Shakur Stevenson, Gervonta Davis, Teófimo López and Ryan Garcia. Since Instagram and Twitter are the most used platforms, let's compare.
Instagram Followers:
Devin Haney 2.1M
Shakur Stevenson 817K
Gervonta Davis 4.3K
Teófimo López 821K
Ryan Garcia 9.2M
Twitter Followers:
Devin Haney 238.4K
Shakur Stevenson: 175.8K
Gervonta Davis: 520K
Teófimo López 167K
Ryan Garcia 191.6K
Gervonta Davis, age-wise, is the oldest but also the most experienced among all five stars and he is definitely in his prime right now.
Even though an argument could be made Ryan Garcia is the most marketable boxer among the five boxing stars with his good looks, charisma, his followings, and witty comebacks, many boxing trainers and boxing fans would favor Davis, Stevenson and Haney against Ryan Garcia for their PURE BOXING SKILLS and TALENT.
Currently, except for Teófimo López, all four stars are unbeaten. Even though George Kambosos Jr beat Teófimo López in a close fight, Devin Haney beat George Kambosis Jr with RELATIVE EASE TWICE.
Lomachenko and Devin Haney are fighting on 20th May 2023; however, let's face it, Loma was not the same prime Loma a few years ago, but this fight will surely be a good chess match to watch.
A fight I would personally love to see sooner than later would be Shakur Stevenson and Gervonta Davis. This is a 50/50 fight right now; however, a few years later, Shakur Stevenson will be the clear favorite to beat Gervonta Davis because Shakur would have gained more experience and with his high boxing IQ…
.. he may be the clear favorite in all his fights unless he decides to move to middleweight. As we know from history, great Manny Pacquiao was in his prime after beating Margarito in middleweight when asked if he wanted to defend the belt – Pacquiao vacated the belt real soon, as Pacquiao later said in his interviews: the WBC asked Manny if he is going to defend your junior middleweight title. Manny said give it to somebody. Nevermind 🙂
Who can blame him. Dude went from being a Flyweight champion to winning 5 lineal championships and 8 division champions. I am curious to see Naoya Inoue's progress as he has been so dominant and steadily conquering higher weight classes.
What is the potential for Shakur Stenson and Devin Haney?
Shakur Stevenson, many boxing trainers and boxing fans would argue, is the most skilled and talented boxer; however, Shakur and Devin Haney are in a HARD SPOT because even though they win all the fights by Comfortably Dominating Their Opponent By Outboxing Them, many casual boxing fans and general public wants boxers to close the show and WANTS TO SEE KNOCKOUTS.
We have seen Shakur and Devin choose not to go for the kill AND CLOSE THE SHOW even though they are clearly dominating the fight. Who could blame them for deciding not to risk getting hurt whilst absolutely dominating their opponent and not taking any punishment?
As the saying goes, the less you get hit in boxing, the longer you can sustain your boxing career and make more Money in the long run.
Gervonta Davis, though is a monster who not only has punching power but tremendous boxing skills; he always CLOSES A SHOW IN A KNOCKOUT and takes risks in fights. However, it also makes him VULNERABLE to getting knocked out, which makes Davis's fight MORE INTERESTING TO WATCH AS A FAN.
A similar can be said about Ryan Garcia closing the show with a knockout, but he has not faced the high-level opposition as Gervonta Davis has so far in their career. Ryan Garcia is four years younger than Gervonta Davis, though so it is not a criticism of him.
Among all five boxing stars, Gervonta Davis and Ryan Garcia have good potential to be the new face of boxing; however, after this fight, we fans want to see these five battle plays out whilst in their prime and Heck if the fight his good we would not mind watching the rematch or trilogy right?
Among these five stars, I would bet my money on Shakur Stevenson, who has not yet reached his prime. However, I could see his boxing style and current marketing ability will hinder him from being the next face of boxing in the long run.
I think Gervonta Davis will beat Ryan Garcia by knockout or stoppage. Even if Ryan Garcia beats Gervonta Davis, it will be hard to imagine him beating both master boxers Shakur Stevenson and Devin Haney.
Both of these guys have the desire and hunger to be the next face of boxing.
Catch Weight And Rehydration Clause
Let's face it: Gervonta Tank Davis is the A-side this time and of course, his team wanted to get every advantage they could get.
As the saying goes, Don't Hate The Player; Hate The Game. The A-side always has the upper hand when it comes to negotiations.
During the press conference, Ryan Garcia's team Oscar De La Hoya, Bernard Hopkins and Ryan Garcia himself, didn't seem too pleased about the 10 pounds rehydration clause on top of the catch weight of 136 pounds.
Personally, I feel Ryan Garcia is going to lose this fight regardless of the rehydration clause and catch weight that puts the taller and bigger man in this fight Ryan Garia at a disadvantage but let's give our appreciation to Ryan Garcia for ACCEPTING ALL THE CAUSES and making this fight happen.
Ryan himself has said he does not like to come in too heavy for his fight and it is not likely to affect him too much, but as a fighter, it takes EXTRA DRAIN IN YOUR ENERGY to ensure you do not exceed the weight limit and make the catch weight.
However, the catchweight and rehydration clause makes the Davis team look less confident to the boxing fans, even though that may not be true.
Credit goes to both fighters for making this fight happen for the fan. However, let's give the full credit where it is due to Ryan Garcia for accepting all the terms and conditions from Davis team to make this fight possible and he has been calling out Davis for a couple of years now, so he is fully confident he will beat Davis.
And my personal favorite is when Ryan Gracia Calls out Tank in Mike Tyson's podcast and both Mike Tyson and Ryan Garcia DANCING. After watching, fans were even more hyped to see this fight!
Fight Prediction
Gervonta Davis has a distinctive advantage over Ryan Garcia in Defense and his power. With his 93% knock-out percentage and lack of great defensive skills on Ryan's part, I find it hard to bet against Tank Davis.
Tank said it himself during their second press conference that all Ryan Garcia has is a good left hook, to which Ryan Garcia replied maybe that is all it is going to take.
They both are not wrong. Ryan Garcia's left hook is a thing of beauty and let's hope and see how Gervonta Davis reacts to eating his left hook.
I see both fighters coming forward, particularly towards the middle rounds and hurting each other to both body and head. It will be exciting to see some toe to toe action. Davis has demonstrated that he can fight on his back foot and there is a high probability of catching Ryan Garcia as he is coming in.
However, I think Ryan Garcia will be mindful to apply smart pressure to avoid the signature over left-hand Davis landed against Rolly Romero last year.
For fun, I predict Tank will knock out Ryan Garcia in the sixth round.
Even without the rehydration clause and catchweight, Ryan Garcia was an underdog going into this fight.
It is, nevertheless, a very exciting fight for us to anticipate. Tank's experience and power will probably prevail; however, let's see if Ryan Garcia's hand speed and left hook make the task challenging for Tank.
Oscar Dela Hoya Ryan Garcia's own boxing promoter, when asked how he would beat Tank Davis if he was Ryan Garcia and joked that he would bring a baseball bat with him.
Hats off to Ryan Garcia because Tank is the most dangerous fighter he can face right now and is taking the challenge.