Just an hour ago, Manny Pacquiao tweeted he is fighting Errol Spence on August 21. My excitement level for boxing fans went through the roof!
Manny Pacquiao Vs. Errol Spence's fight came out of nowhere, and the fight is now official!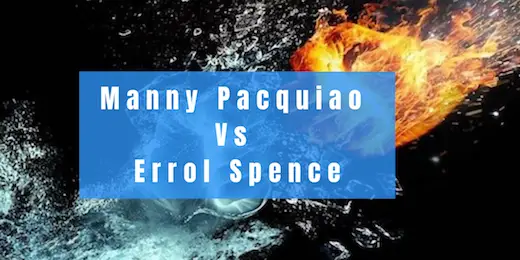 Can you imagine once a Flyweight champion, now at age 42, takes on a fighter in his prime, the best welterweight in the world today, Errol Spence.
A few days ago, I wrote an article on Manny Pacquiao's inspirational story. Manny has fought everybody, never ducked a fighter, the first and only boxer to be a lineal boxing champion and eight-division world champion.
A record that may take centuries to be accomplished by any other boxer.
No Flyweight champion dreamed of beating world-class champions in the eight different divisions in boxing.
Manny comes along and beats the best fighters in the divisions as he moves up in weight to win the lineal championship in five different weight classes.
And has a case like Max Kellerman says to be the second greatest pound-for-pound fighter after the great Sugar Ray Robinson.
Boxing fans appreciate Pacquiao through his four decades of Boxing. Manny Pacquiao won his first title belt in 1998, beating Chatchai Sasakul to win the WBC Flyweight title. Manny Pacquiao's fight against the Hungry Lion champion Keith Thurman a couple of years ago was terrific!
And now, after nearly two years of Inactivity; instead of a tune-up fight (which what normally boxers do after a long layoff) Manny Pacquiao is fighting a blue-chip fighter, Errol Spence, in his prime, the best welterweight right now.
We boxing fans are spoiled by Manny Pacquiao, who has given us spectacular fights over the last four decades. Respect! 
On November 16, 2003, Manny Pacquiao fought Marco Antonio Barrera at featherweight (126 pounds), which some people thought was Manny's prime. Manny Pacquiao, at age 42, fighting a young lion, the best welterweight in boxing today, is inspirational for all young fighters to strive for greatness and especially older men in their 40's.
Errol Spence A Blue Chip Fighter
At the age of 42, the old lion is fighting a lion in his prime, Errol Spence.
Hardcore boxing fans know what Errol Spence brings to the table and is one of the best welterweights in the world today and a future hall of Fame boxer, A blue-chip fighter.
Boxing Experts and hardcore boxing fans know Errol Spence is a special fighter and a heavy favorite in this fight. Anything can happen in boxing. However, Errol Spence will and should win the fight.
At Pacquiao's late stage of his career, taking this challenge and fighting the best welterweight fighter in his prime is inspirational; however very dangerous for his health and Pacquiao can look very old overnight.
The old lion just beat another young, hungry boxer, Keith Thurman but Errol Spence is a special blue-chip fighter who is great at fighting at distance and on the inside. Errol Spense's body shot is a thing of beauty.
Errol Spence has a great jab with solid 5 inches reach and a natural size advantage over Manny.
Spence is also naturally a bigger welterweight who will potentially move up and become a champion at Middleweight one day.
Errol Spence and Canelo is another very intriguing fight that we will hopefully get to see in the future but we boxing fans demand Errol Spence vs Crawford, both in the same weight division and in their prime. Boxing fans deserve this fight!
When we consider the height, reach, and 11-year-old age younger Spence, everything favors Errol Spence.
However, what makes this fight exciting is the older lion still has a powerful left hand, speed and would you believe it Pacquiao is a world champion for four different decades so needless to say Pacquiao comes into this fight with lots of experience and has seen every single boxing style.
In an imaginary fight, Errol Spence will give the Marvelous Marvin Hagler in his prime a good run for the money, and we could imagine it will be a very competitive fight.
On the other hand, some people give Manny Pacquiao a good chance; however, it is hard to imagine Pacquiao winning the fight.
Fight Prediction
What do you think will happen?
Even if you are a die-hard Manny Pacquiao fan and unbiased, I bet you will not bet your house on Manny over Errol Spence if you have to choose among these two great fighters at this stage of your career. The youth, the naturally bigger size, everything favors Errol Spence.
No disrespect to Danny Garcia, Keith Thurman, Shawn Porter, and Mikey Garcia put those guys against Manny Pacquiao. Manny still has a good chance at 42 but against Errol Spence and Terrance Crawford, blue-chip fighters in their prime.
Hard-core boxing fans know It would be considered foolish to bet against these two blue-chip fighters right now.
Hats off to Manny Pacquiao for fighting a young, hungry Errol Spence. However, Errol Spence will and should be heavily favored in this fight.
Despite my admiration for Manny Pacquiao, I think Spence will stop Manny later round.
We are talking about Errol Spence blue chip fighter and against Manny Pacquiao I feel we will see on the fight night Errol Spence's bigger size will play a bigger factor to bully Pacquiao.
Errol Spense is a slow starter and you can imagine if he can take punches from Pacquiao or Pacquiao is ahead in points, Spence will just walk Pac man down and Spence likes to trade punches.
So this could be a very ugly fight for Pacquiao and a very dangerous fight later in his boxing career.
Errol Spence, like Max Kellerman, says he is a blue-chip fighter. In Mikey Gracia's fight, Errol Spence demonstrated that he could be a disciplined fighter and also bang fight toe to toe, as we saw with Shawn Porter's fight.
As Max Kellerman explains, there are many very good fighters Shawn Porter, Danny Garcia, and Keith Thurman, whom Manny beat a couple of years ago.
However, Errol Spence and Terrance Crawford are blue-chip fighters of our current generation.
Boxing fans deserve to see Errol Spence vs. Terrance Crawford fight while both fighters are in their prime as we boxing fans do not want to see a repeat of Mayweather Pacquiao, a fight that was five years late when both fighters were past their prime.
But in 40's Pacquiao fought and beat talented fighters Adrien Broner and Keith Thurman, which is amazing. After winning against Keith Thurman, Mikey Garcia asked Manny why he is still fighting, and Manny replied to add more to his legacy.
And no doubt Manny is writing and further solidifying his legacy by fighting the best fighters out there throughout his boxing career.
Pacquiao's peak was so high, and when you fall off from the peak that high, you could beat hungry young good fighters like Keith Thurman, Broner but Errol Spence is special. A blue-chip fighter in his prime.
When Pacquiao moved from 130 pounds to 147 pounds to fight Oscar Dela Hoya, there was a huge uncertainty and even a bill in the Philippines to stop his fight from happening it would be a circus big man fighting a smaller man.
However, Manny Pacquiao is not in his prime anymore but he has been fighting at welterweight for over a decade now so Manny has tasted welterweight power.
Even though there will be a big size difference on a fight night Manny has said in his previous interviews speed will be key.
Some Pacquiao fans are saying Pacquiao vs Spence will be similar to Mayweather vs Canelo, where similar to Mayweather, Pacquiao will teach a younger boxer a boxing lesson.
However, the difference is Canelo was only 22 years old not in his prime yet like he is now when he fought Mayweather whereas Spence is 31 years of age in his prime against a 42-year-old living legend.
At Spence's current age Pacquiao at age 31 had already won 8 division belts and Spence has a lot of respect for Pacquiao however that respect will go out of the window at fight night.
I will heavily favor Spence in this fight despite my admiration for Pacquiao for what he has accomplished in the sport of boxing from being a flyweight champion, eight-division world champion, won five lineal championships in five separate weight classes, and at age 42 fighting the best welterweight today a blue-chip fighter. Respect!
A sure-to-be future Hall of Famer one day, Errol Spence is in his prime. Errol Spence has beaten world-class fighters which including Mikey Garcia, Kell Brook, Shawn Porter, and Danny Garcia among others.
I would predict Errol Spence will win by a wide Unanimous Decision Victory and a good chance that Errol Spence will stop Pacquiao in the late rounds.
What Makes Errol Spence so dangerous for Pacquiao is not only his natural size advantage over Pacquiao, particularly weight at the fight night, and Errol Spence knows how to use his jab efficiently.
Mikey Garia was known for his technical boxing ability; what Spence did to Mikey Garcia was impressive how Spence dominated the fight.
With a 5-inch reach advantage, Errol Spence will keep Pacquiao at a distance. Still, he may get countered by Manny's signature a left-hand couple of times along the way because Manny is naturally a lighter-weight fighter with a speed advantage over Spence.
Errol Spence has demonstrated time and time again that he is a great inside fighter and can really use his size advantage to bully Manny Pacquiao once Spence senses blood.
Manny Pacquiao is not the same relentless offensive powerhouse he was in his prime in 2009, and we saw Manny getting visibly tired at the later rounds with Keith Thurman.
No doubt both fighters will give their best in this fight for their fans and come in 100% prepared. No matter who you are rooting for, boxing fans will not be disappointed.
Again hats off to a living legend Manny Pacquiao, fighting a young, hungry lion in his prime, the best welterweight boxer right now.
Despite a loss to Errol Spence, simply taking this fight further cements Pacquiao's legacy for always fighting the best fighters throughout his four decades as a lineal boxing champ.
Let's be present and enjoy watching these blue-chip fighters display their boxing skills. This fight, I predict, will be great passing the torch as Pacquiao will go out of boxing in his shield.
And hopefully, Pacquaio decides not to fight anymore for the thrill/legacy/challenge as Errol Spence can and will most likely make Pacquiao look very old that night. Still, hopefully, a legend like Pacquiao won't leave the sport with a severe or permanent injury, which will be deeply saddening.
What Does Boxers and Boxing Expert Think About Pacquiao Vs Spence
Chris Algieri interesting insights about the fight because he fought both Errol Spence and Manny Pacquiao. Chris Algieri says, "you can never count out Pacquiao" However his heart says Manny, but his head says Errol Spence. Going with your head is always a safe bet in Boxing.
Teofimo Lopez current unified lightweight champion, says to Manny Pacquiao, "You are not human". We can see young fighters like Teofimo are inspired and say they will be down in Vegas on the fight night.
Tim Bradley, a fighter who faced Manny three times says Errol Spence should win if Spence can control a distance. Bradly says it is important to keep a distance against Manny Pacquiao.
Teddy Atlas thinks it is not a good fight for Manny Pacquiao at 42 years of age to take a solid big welterweight. There is also concern that Manny has not been active for two years which is a long time.
Teddy feels it breaks your heart to see a legend like Manny get out of boxing getting hurt and stay in the sport too long.
This eloquent breakdown from Keith Thurman, who along with Chris Algeri, a previous opponent of Pacquiao, has a great future in Boxing Comentating after their boxing career.
What Does Boxing Fans Think About Pacquiao Vs Spence
Boxing fans appreciate Pacquiao, though his four decades of Boxing fought the best fighters in the division and the old lion continues to fight the best out there. There is a saying Boxing is a young man sport, and there is a lot of truth to that.
What does that say about a fighter who in his 40's still fighting the best fighter?
Again, Hats off to Pacquiao for being an inspiration.
There is massive praise for Manny Pacquiao for taking this fight and a thrilled Errol Spence fan all over social media and the internet. Errol Spence deserves this fight and it will be a great passing of the torch.
Manny Pacquiao is in a win-win situation in front of boxing fans. Even if he loses, he lost against a boxer in his prime best welterweight in the division today, and Pacquiao wins, his bragging rights will be crazy.
Errol Spence, however, will be in a win-lose situation because if he loses against 42-year-old Pacquiao, it will hurt Errol Spence's legacy.
There are many Manny's fans commenting that are concerned that whilst they are excited, fighting Errol Spence at this stage of Manny's career is very dangerous for him.
Many boxing fans are posting comments that Pacquiao has balls of steel, giving fans exciting fights, and Spence fans respecting Manny for taking this fight!
Can't wait!
Manny Pacquiao Errol Spence Pre-Fight Updates
There are many videos out on the internet of Manny Pacquiao and Errol Spence training. Both fighters look in superb condition.
The press conference went like any other Manny Pacquiao press conference. Manny is praising his opponent and his goal to give fans an action-packed fight. Errol Spence seemed to respect Pacquiao for taking this fight and was grateful to share the ring with the boxing legend.
If this is, in fact, the passing of the torch moment in boxing, I could not think of any fighter special as Errol Spence to pass the torch at a welterweight other than Terrence Crawford.
Errol Spence has held the WBC title since 2019 and the IBF title since 2017. Errol Spence is the number 1 welterweight in the world today.
Danny Gracia, who fought with Errol Spence, said Errol is physically three times stronger than Keith Thurman in this interview. Still, Danny believes Keith Thurman is faster and a more powerful puncher than Errol Spence.
Danny Garcia lost to Keith Thurman on a split decision whilst losing to Errol Spence in a much wider scorecard in a unanimous decision of 117-111 and two judges scoring 116-111 in favor of Errol Spence.
Also, Errol Spence fought Danny Garcia after Errol's brutal car accident, where you could make a strong argument Errol Spence was not entirely his 100%.
Danny Garcia mentioned Errol Spence's size and strength. Errol Spence's size and strength will play a big factor as the round progresses and find a way to break this opponent. Pacquiao may have some exciting rounds but not quite enough to win the fight.
Manny Pacquiao Vs Errol Spence Fight Cancellation
Sadly one of the fights has been canceled due to Errol Spence's torn retina. Errol Spence is a warrior, and let's not start blaming him for pulling out of the fight. Errol Spence is as disappointed as Manny because this fight would be perfect for passing the torch with a young blue-chip fighter Errol Spence.
Errol Spence has said:
"I'm very disappointed that I won't be able to fight Manny Pacquiao on August 21. I was excited about the fight and the event. Unfortunately, the doctors found a tear in my left eye and said I needed to get surgery on it ASAP and that there was no way I could fight with my eye in that condition. I'd like to apologize to everyone. You know I'll be back as soon back soon. We've come back from worse."
Errol Spence tweeted to say that "Went to three different doctors, all said the same thing I'll be back for the winner for sure."
It seems like Errol Spence is still looking forward to Manny Pacquiao's fight this Christmas or early next year. Unfortunately, we'll have to wait and see how the fight with Yordenis Ugas unfolds; a current WBA welterweight champion, Manny, will be facing on August 2021 in place of Errol Spence.
Manny Pacquiao sends best wishes to Errol Spence's fast recovery and successful eye operation. Pacquiao mentioned the most important thing is health.
There have been so many videos on YouTube of Manny Pacquiao training hard for Errol Spence leading up to the fight, which would have been great for boxing, primarily because of Manny's age for 42 and a rumor Manny is running for Predicey for Phillipeanse next year. So we don't know when will be the last fight for Manny Pacquiao. However, in life, things do not always work out as planned.
In the meantime, let's see how Manny Pacquiao vs. Yordenis Ugas unfolds.