Your Guide

Gavin Davison
As many of you might be aware, the 2020 Wimbledon Championships did not take place due to the COVID-19 situation.
Amazingly, this was the first year that the Championships did not take place since World War II.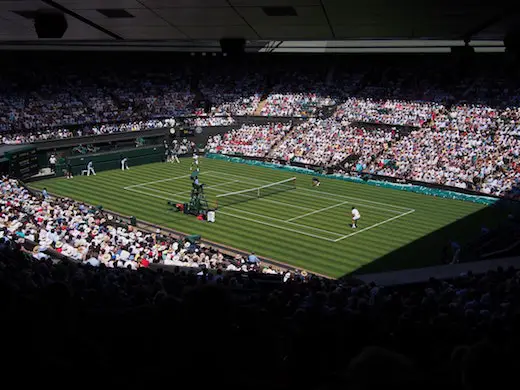 With that said, since we were all robbed of the 2020 tournament, fans and players included, this makes the excitement and anticipation surrounding the 2021 Championships better than ever before!
Just to give you the scoop – Wimbledon 2021 is scheduled to take place from Monday, 28th June through until Sunday, 11th July. 
Of course, the Championships will be a little different from before since COVID-19 has not disappeared, so if you're wondering exactly what aspects might be different, check out the latest Wimbledon updates here.
Restrictions and safety concerns aside – Wimbledon guarantees us two weeks of awesome tennis, plenty of strawberries and cream, and a Pimms or two if that's your kind of thing!
And I think I speak for us all when I say I am elated that the 2021 event will be going ahead! 
But as we all wait for the draws to be made for both the men's and women's events, I figured now is the perfect time to shed some light on some players that could give us a surprise or two during the Wimbledon fortnight. 
It goes without saying that gladiators of the game like Djokovic and Nadal clearly have a shot to win.
But there are some young players starting to really ruffle the feathers of these greats of late, which is why I will be focusing on the men's event in this piece.
It's all super exciting, but just before I get into the players who I feel could cause some major upsets this year, let's take a moment to identify the cocktail of traits that players need to have for Wimbledon success.
Winning Wimbledon – The Secret Sauce
Ever wondered exactly why players like Serena Williams, Roger Federer, and Novak Djokovic have enjoyed such enormous success at SW19?
Sure, they are all amazingly talented players, but what is it that makes them prolific winners on the grass?
Well, I'll tell you right now!
Spot Serving
In essence, spot serving means that players can repeatedly hit serves that find the corners of the box or the outside of the line.
These serves don't need to be the fastest either, although having a huge serve inevitably helps at Wimbledon.
Just look at guys like John Isner, Reilly Opelka, and even Ivo Karlovic to see what I mean.
Being able to hit your spots over and over again means that you will have an easier time holding serve. This is actually one of the major reasons why Roger Federer has enjoyed amazing success on the grass.
Ability to Hit a Flat Ball – Consistently
If you've never played on grass before, let me tell you now, it's almost a different sport compared with tennis on hard courts or clay courts.
Heavy topspin won't be your friend at Wimbledon, which is why guys who are very successful on the clay tend to struggle at Wimbledon – purely for the way they hit their groundstrokes.
Players like Diego Schwartzman and even Dominic Thiem are classic examples. Hitting a flat ball is far more effective, as it skids along the grass and makes things incredibly difficult for the opponent.
Reasonable Net Game
Serving and volleying was previously a game style that was essential for success at Wimbledon.
Unfortunately, this style of play has all but died on tour, and guys like Pete Sampras and Pat Rafter will likely never be seen again.
On that note, if you want to witness a masterpiece in serve/volley play, check out their Wimbledon 2000 final:
With this said, while the number of net points has decreased substantially, it's still an important ingredient for success at Wimbledon.
Having good volleys, and picking the right time to come into the net to close out the point is vital, even if it's not quite as important as it was a few decades back.
Possession of a Weapon
No – I'm not talking about an actual weapon, just to clear that up! A 'weapon' in tennis is something that a player can use to have a major impact on a game.
For players like John Isner, it's the serve. For players like Federer, it's the forehand, and so on and so forth. 
You have to have a weapon that can be used to dominate your opponents on the grass, as Wimbledon is a venue that favours the more attacking players.
Wimbledon's Dark Horses for 2021
To see a name other than Nadal, Murray, Federer, or Djokovic as a Wimbledon winner, you'd need to look all the way back to 2002. This is the last time any of the 'big four' haven't won the men's Championships.
The sheer dominance on display is unreal, and it's something we likely won't witness again in our lifetime.
However, as I've stated above, it does seem like the 'Next Gen' is starting to make major strides, and this makes the 2021 men's Championships an event that will be very interesting to watch.
So, who are my dark horses, and why do I feel they have a shot? Just read on.
Aslan Karatsev
Arguably, Karatsev is the most improved player on tour. He has come from being a relative nobody to making it through to the semi-finals at the Aussie Open, losing out to Djokovic.
He has since proved that this wasn't a fluke, and he now holds a ranking of 26 in the world. But for me, it's his style of play that could make him dangerous this year.
He has a great serve and a huge forehand when he connects, which will make him a handful for just about anyone!
Daniil Medvedev
I have to admit, Medvedev is one of my favorite players right now. Not only does he have a bit of an attitude on him, but his style of play is unique, making him highly entertaining to watch.
It's no secret that Medvedev prefers hard courts, but he hits incredibly flat off both the forehand and backhand wings, which would make his game a great fit for grass.
In 2019, he lost in the third round, but he has since skyrocketed up to number 2 in the world!
Matteo Berrettini
Currently, Berrettini is ranked number 9 in the world. This in itself shows that he is an amazing player, but the fiery Italian has a couple of secret weapons that could serve him very well in this year's Championships.
For starters, he is one of the biggest servers on tour, with his first serve popping above the 145mph mark on a good day.
This is then backed up by a god-like forehand, something that enables Berrettini to slap winners from wherever he is on the court.
Having made the fourth round back in 2019, he will no doubt be looking to improve on this for the 2021 event.
Roberto Bautista-Agut
RBA as many refer to him has had a bit of a mixed bag of form in 2021. But as we all know, form can come and go. He is still a phenomenal player, competitor, and human being.
RBA is also a fairly slippery customer on the grass, as demonstrated in his unexpected semi-final appearance during the 2019 Championships – a game in which he lost to the eventual winner, Novak Djokovic.
I believe he has a fighting chance given that he makes a lot of first serves, he hits very flat on both wings, and he also uses his slice backhand intelligently too!
Roger Federer
It seems strange to ever describe Federer as a dark horse for Wimbledon, but let's face it, he's not the favourite to lift the trophy anymore. At 39 years of age, it's a miracle he is still competing at the top of the game.
And having gone through several surgeries, a spotty comeback, and some less than impressive form, many might be writing the Swiss Maestro off for the 2021 event.
 While I understand this point of view entirely, this is still the great Roger Federer we are talking about.
In what might be his last Wimbledon ever, I am rooting for this legend of the game, and his abilities on the grass don't even need to be explained! 
Who do you think could be crowned Wimbledon King this year? Will it be one of the legends or a fresh face?
Let us know in the comments!