We currently live in a tennis era that has been absolutely blessed. There has been no other time in tennis history where three players have dominated the sport so INTENSELY.
Of course, we are referring to Roger Federer, Rafael Nadal and Novak Djokovic.
Your Guide

   Gavin Davison
It is only natural that following periods of sustained domination, a DEBATE will rage concerning the true GOAT (Greatest Of All Time) of a sport.
This is true for every sport on the planet, not just TENNIS.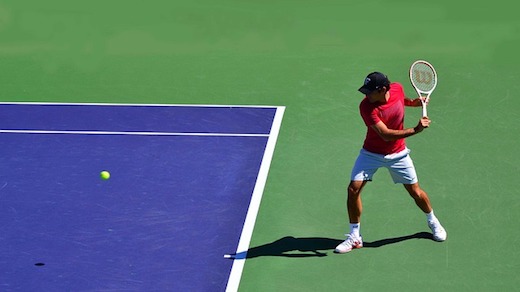 For example, basketball has had a long-standing debate for Lebron James vs. Michael Jordan.
In football, the HOT DEBATE is Lionel Messi vs. Cristiano Ronaldo.
But that's the funny thing about sport: there's always a winner ultimately.
And just like a tennis match, we wanted to get to the bottom of the GOAT debate and leave just One Winner Standing. Let's get right into it!
A Brief History Of Our Candidates
Roger Federer
Also known as The Swiss Maestro, Roger Federer has become an absolute icon of the game.
Even people who do NOT FOLLOW tennis have heard of Roger Federer!
That's how Popular this man has become over the course of his career.
Federer was born in Switzerland in 1981. He became a professional tennis player in 1998 while he was still a teenager, and is currently giving hope to plenty of older sportsman out there.
He's now 38 and still competing for Grand Slams, it's incredible to WITNESS.
Federer grew up playing tennis in Switzerland, and SURPRISINGLY he was a very angry tennis player back in the day.
He used to cuss, break rackets and just generally be a frustrated guy out on a tennis court. But then something changed.
In 2001, aged just 19 years old, Federer made time stand still on Centre Court Wimbledon.
He toppled one of the games GREATS, Pete Sampras, in the fourth round and went on to win his first Grand Slam title. This was the fire that lit the match for Federer's career, and he's been at the top of the game ever since.
He is currently ranked number 3 in the world, not to mention he doesn't get too angry on a tennis court anymore!
Rafael Nadal
Rafael Nadal was born 5 years later than Federer, in 1986. He was born on the island of Mallorca, just off the coast of Spain.
Little did the TENNIS WORLD know what was in store for them when Nadal first picked up a tennis racket!
He turned professional in 2001, at just 15 Years Old.
He enjoyed moderate success on the junior circuit, but then burst onto the men's circuit in tremendous FASHION.
Nadal becomes famous for his biceps, three-quarter-length shorts and sleeveless shirts. Besides these, his tennis wasn't bad either!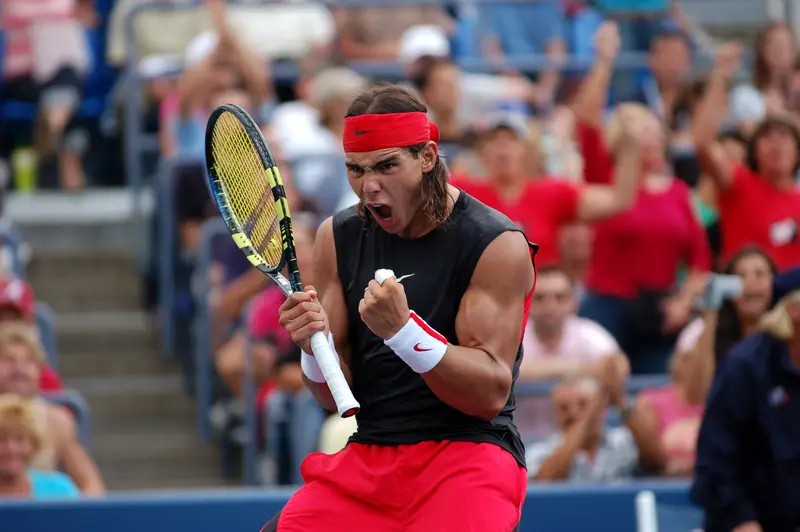 Nadal won his first grand slam just 4 years after turning professional, at the French Open. Ever since that victory, Nadal has been an incredible force on the ATP Tour.
Nadal is currently the world number 2, behind just one man – Novak Djokovic.
Novak Djokovic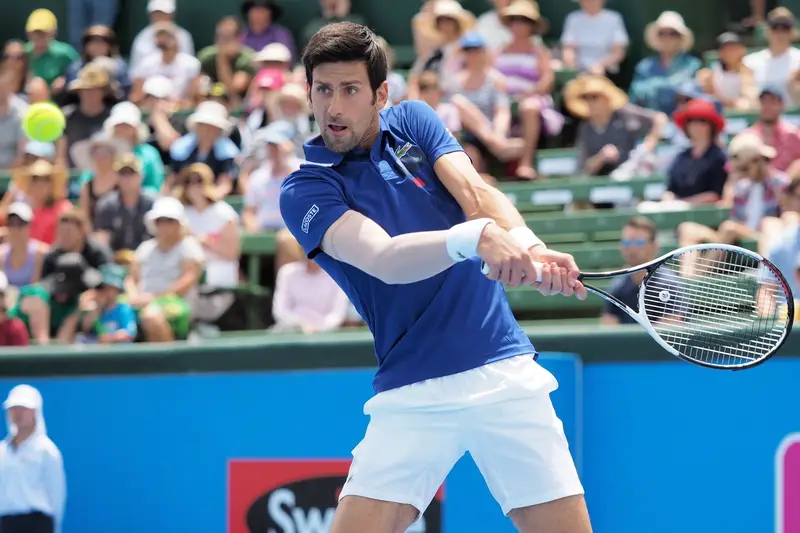 Serbian-born Novak Djokovic is currently the world's number 1 and enjoys a life of fame and LUXURY. But things weren't always this way.
Djokovic was born in 1987 in war-torn Belgrade, which was actually Yugoslavia at the time.
His parents ran a fast-food parlor, and Djokovic has said that he played tennis in an empty swimming pool during his early days. This is a far cry from the life he now leads.
Djokovic moved to Germany at 12 years old to continue his AMBITIONS toward professional tennis. He turned pro in 2003, also a teenager just like Nadal and Federer before him.
His first Grand Slam title came 5 years later in 2008, at the Australian Open.
Interestingly enough, this was the first time since 2005 that the Australian Open had been won by somebody who wasn't named Nadal or Federer!
This marked the announcement of Novak Djokovic becoming a major force on the ATP Tour, and he is still playing remarkable tennis to this day.
Head To Head Records
It's time to delve DEEP into the statistical side of this debate. As they say, numbers don't lie – so we have broken down the head-to-head records between these three greats.
First of all, take a look at the table below for a head-to-head snapshot of these rivalries.
| | |
| --- | --- |
| Rivalry | Head-to-head record |
| Federer vs. Djokovic | 22-26 |
| Djokovic vs. Nadal | 28-26 |
| Nadal vs. Federer | 24-16 |
From this table, it would be easy to jump to conclusions and say that, obviously, Djokovic is the best.
This would be understandable, given that he has a winning record against both Federer and Nadal.
However, this would also put Federer in 3rd place since he doesn't have a winning record against either. This isn't too realistic to determine the GOAT.
Therefore we can't just go from head-to-head records alone to reach our decision.
There are other factors to consider, especially when we are trying to reach a conclusion for one of the hottest debates in tennis since Andre Agassi's jean shorts!
Personal Records
Besides the head-to-head records amongst these three, we need to take into consideration their personal achievements.
There are few greater indicators than looking at an athlete's records in their given sport to help determine the true GOAT.
Roger Federer's Records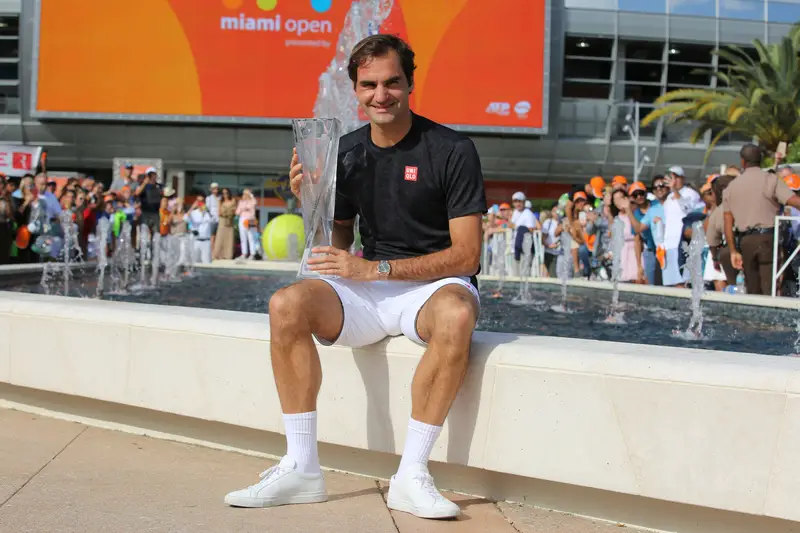 1) Most Grand Slam Titles – 20 Titles Won
Grand Slams are the most PRESTIGIOUS events in the tennis world, with 4 of them held each year. Roger Federer has amassed 20 of these titles during his career, making him the all-time record holder for most Grand Slams won by any male competitor.
2) Most Grand Slam Finals Reached – 31 finals played
After all, the man is human. Federer has reached 31 Grand Slam finals throughout his career, which is currently unrivalled by any other player in history. He hasn't won them all, but he has won 20 of them.
3) 8 Wimbledon Titles
Federer often hailed as the greatest grass court player of all time has won a staggering 8 Wimbledon titles. This IMPRESSIVE FEAT means he has even surpassed 'Pistol Pete' (Pete Sampras), who won the title 7 times.
4) Only player to win two different Grand Slams 6 or more times
Of course, Wimbledon being one of them, but the Australian Open has been kind to Federer through the years. He has enjoyed HUGE success there, winning the title 6 times.
5) Only player to win three different Grand Slams at least 5 times
Okay, it's starting to get crazy! This man has also won three different Grand Slams (Wimbledon, Australian Open and US Open) at least 5 times in his career.
6) Longest streak as world number 1
Federer held the world number 1 ranking for an enormous 237 consecutive weeks at the peak of his dominance. Just to put that in perspective – that is almost 5 years in a row!
7) Most weeks spent as world number 1
Not only does he hold the record for the LONGEST STREAK as world number 1, but he also holds the record for the longest total time spent as number 1.
Federer has been ranked world number 1 for a total of 310 weeks during his career.
8) Longest winning streak on hard courts
Sportsmen sometimes have spells where everything they touch turns to gold. Well, Federer's version of this is a little different to most mere mortals.
He has previously posted a 56 match winning STREAK on hard courts, making this the most of all-time.
We could go on even further, but in the interest of giving the other two a fair shot, we will move on to Rafael Nadal.
Rafael Nadal's Records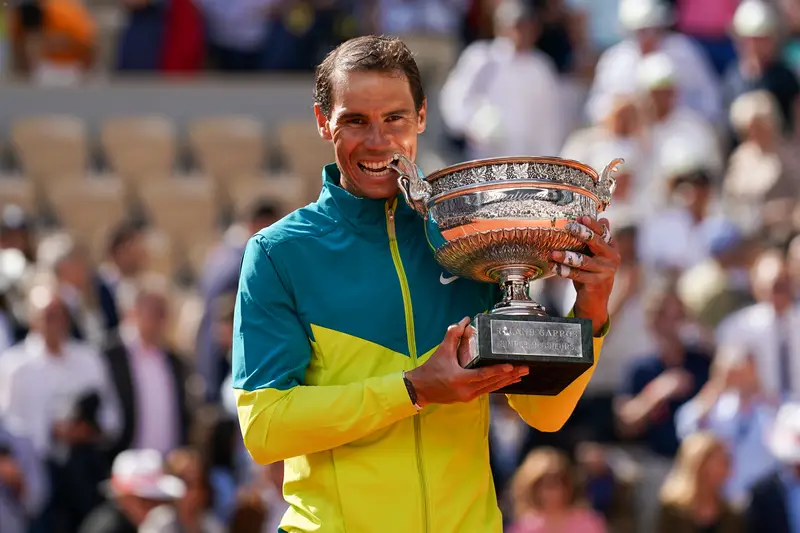 1) 2nd all-time for Grand Slam titles – 18 titles won
Nipping at Federer's heels, Nadal has posted a record of 18 Grand Slam titles to his name. In any other ERA, this would put him as the undisputed GOAT, but not with Federer around.
2) 12 French Open victories – most of all-time
Many tennis fans regard this as being the most impressive achievement out of them all.
And it's arguably true!
Winning the same Grand Slam 12 times is simply amazing, and this record has justifiably earned Nadal the title – The King Of Clay.
3) 2nd all-time Grand Slam final appearances
Second yet again to Federer, Nadal has appeared in a total of 26 Grand Slam finals. This being said, his winning percentage in Grand Slam finals is 69.23% compared to Federer's 64.51%.
4) Most ATP 1000 titles won
One tier below the Grand Slams lays the ATP 1000 events. Nadal has posted an amazing 35 titles throughout his career, making this the all-time record.
5) 59 Clay Court titles
Nadal has won 59 clay court titles on the ATP tour, including the French Open (Grand Slam), Monte Carlo, Rome, Madrid and Barcelona multiple times.
6) Only player to win at least 1 Grand Slam per year for 10 consecutive years
Nadal broke the previous record of 8 CONSECUTIVE YEARS to take this crown. He managed to achieve this from 2005-2014.
Novak Djokovic's Records
1) 3rd of all-time for total Grand Slams won
Djokovic has won a total of 16 Grand Slams during his career, with many SPECULATING he could surpass both Nadal and Federer in the coming years. He is only 2 behind Nadal, and 4 behind Federer.
2) 25 Grand Slam finals reached
Falling just shy of Nadal's 26 finals, Djokovic has competed in an incredible 25 Grand Slam finals during his career.
Given his world number 1 ranking and current form, this could well rise in the near future. Interestingly, he has the lowest winning record in Grand Slam finals out of the three, with a 64% win rate.
3) 2nd all-time for ATP 1000 titles won
Djokovic has won a remarkable 33 ATP 1000 titles, again falling just short of Nadal's record of 35. He has won ATP 1000 titles on all surfaces.
4) One of two players to beat Nadal at the French Open
Nadal's record at the French Open is nothing short of MIRACULOUS. However, Djokovic is one of only two men to have beaten the King of Clay on his home court. The other player to do this was Robin Soderling.
5) Held all 4 Grand Slams and won the year-end masters
Djokovic is the only man to have ever accomplished this in tennis. This is an amazing achievement; not even Federer or Nadal have attained this same feat.
6) Most Australian Open tiles of all-time
This man seems to play outstanding tennis every time he travels down under!
Clearly, the Serbian enjoys the heat of Melbourne since he has won the title a record-setting 7 times.
Evidently, all three of these men have achieved incredible feats in tennis. So now we have identified some of their most impressive records, we will examine another category – their actual gameplay.
GOAT Game Play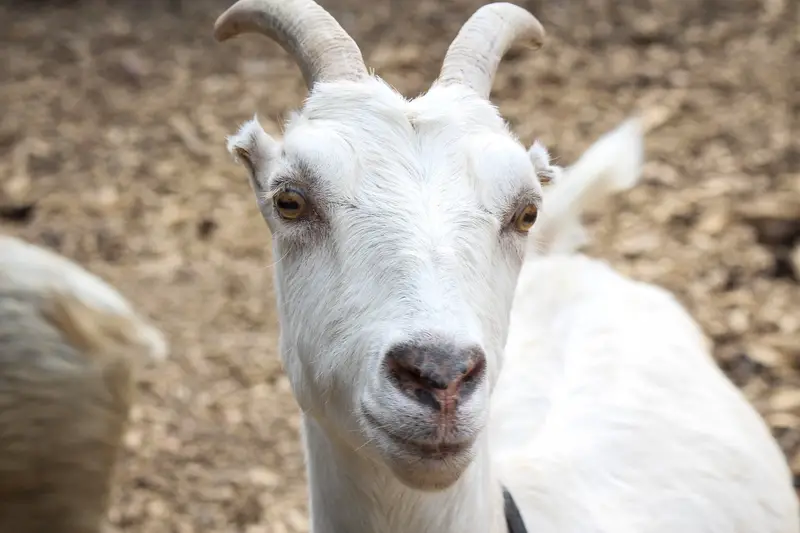 Putting aside the impressive records and statistics for each player, we need to look at their actually playing style.
Of course, in tennis, the major areas of the game are:
Serve
Return
Forehand
Backhand
Volley
But we will also consider four extra categories, including agility, speed, mental strength and defensive play.
We will be selecting a winner for each category and the reasons why right here.
Serve
Winner: Federer
Federer is often regarded as the best 'spot server' of all time.
This effectively means that he can REGULARLY HIT the line or the outside edge of the line with his serves and can do this at big moments.
While his service isn't the fastest on tour by any means, it is amazingly ACCURATE.
Return
Winner: Djokovic
While Federer has been referred to as the best spot server, Djokovic is undoubtedly the best returner of all time.
It is actually this ability that makes him so difficult to play against, even against the biggest of servers. He regularly not only returns the serve, but also returns it with interest to NEUTRALISE the point.
Forehand
Winner: Federer
This was a tough category to choose a winner…
..Nadal has an incredible forehand, especially on a clay court. But the reason we have given it to Federer is the combination of his natural technique, and his ability to ADAPT his forehand depending on the surface.
Djokovic also of course has a great forehand, although it often isn't quite as attacking as Nadal or Federer's.
Backhand
Winner: Djokovic
Deciding a winner for this category was EQUALLY as tough as the previous one.
We have given it to Djokovic for consistency and his strength under pressure with his backhand. He rarely SLICES the ball, and hits his solid two-hander most of the time.
In contrast, Federer often chooses to slice when under pressure on his backhand, and Nadal is somewhere between these two.
Volley
Winner: Federer
Federer takes the victory for this category due to his natural ability to volley. He has great technique on his volleys, and is very successful when he comes to the net.
Nadal is very clever when coming to the net, meaning he does so only when he knows he was a shot to try and end the point.
Djokovic in contrast, has relatively average volleys, although he does choose to come to the net at good moments.
Agility
Winner: Djokovic
Who says you can't slide on a hard court?
Djokovic seems to have no issues doing it!
His agility and strength when pushed wide or chasing down drop shots is truly incredible.
It's almost as though he is made of elastic at times. Nadal also has amazing agility, although he isn't as strong on the wide shots as Djokovic.
Federer is slightly off the pace for this category, which is understandable given that the man is almost 40 years old (sorry Roger!).
Speed
Winner: Nadal
So while Djokovic has the edge for overall agility, Nadal is the QUICKEST.
In the early days, Nadal seemed to be able to hit passing shots from literally anywhere on the court.
He could reach balls that nobody else could and still hit incredible shots from whatever position he was in. He doesn't always do that these days, but he is still LIGHTNING FAST on a tennis court.
Mental Strength
Winner: Nadal
Djokovic and Federer are both mentally tough, but they have far more lapses in composure than Nadal.
It isn't unknown for Djokovic to break a racket (or 3), and even Federer has mangled a few frames in his time.
But Nadal has rarely if ever slammed his racket in anger. He is also regarded as one of the most competitive tennis players to ever step onto a court, refusing to give up a game regardless of the score.
Defensive Play
Winner: Djokovic
Closely tied to ability and speed, defensive play in this sense is the player's ability to TRANSFORM a losing point into a winning point – through the great defense.
Djokovic is the absolute master of doing this, and this ability wins him so many matches.
Player's have often referred to playing Djokovic as, "playing against a brick wall". It is true; to hit a winner past this guy you have to do something pretty SPECIAL!
Each of the potential GOAT's have their own strengths, which have of course contributed heavily to their overall success.
However, we still have one more category to look at before a decision is reached.
This is the point where some of you may start screaming at your screens in disagreement, depending on your opinion. But as always, we will look at each argument objectively.
Let's delve into our final category.
Main Arguments For Each Candidate
Roger Federer
Game style – Federer makes the game of tennis seem so EFFORTLESS, and his technical ability is the greatest that the game has ever seen.
Grand Slams – by holding the all-time record for 20 Grand Slams, this would symbolize that he should be the undisputed GOAT.
Most dominant – he holds the record for the longest streak as world number 1, as well as the longest total time spent as world number 1.
Most Grand Slam final appearances – Federer is still making grand slam finals at age 38, which is REMARKABLE. Therefore his current total of 31 appearances could grow further.
Rafael Nadal
The King of Clay – Nadal is without a SHADOW of a doubt the greatest clay-court player to ever play the game.
His record of 12 French Opens will certainly not be broken any time soon. And many competitors on the tour say that playing Nadal on clay is the toughest match-up they have ever dealt with.
Winning record over Federer – those that hold the opinion that Nadal is the GOAT often refer to this point.
It is true; Nadal has beaten Federer many more times than Federer has beaten Nadal. When we look into the rivalry however, we see that they have played each other a total of 40 times.
Furthermore, given that 16 of these have been on clay would make the overall outlook somewhat skewed in Nadal's favour. This is especially true given that Nadal is without question the best of all time on a clay court.
Has beaten Federer at Wimbledon – another argument to put Nadal ahead of Federer is the fact that he has beaten him at Wimbledon (Federer's favorite and most dominant surface).
Yet Federer has never beaten Nadal at the French Open, although he has beaten him on clay, twice.
Most ATP 1000 titles – holding an all-time record of 35 ATP 1000 titles is in itself unbelievable. It is important to note, that 25 of these 35 titles were clay-court tournaments.
Novak Djokovic
Winning record against Nadal and Federer – many pro-Djokovic fans for the GOAT debate will state this as their number 1 reason. This is JUSTIFIABLE really, and a huge achievement for Novak Djokovic.
The only man to have won all of the ATP 1000 titles – besides his actual records regarding the number of ATP 1000 titles, there is this to add to it. He is the only man in history to have won all of the available ATP 1000 titles, which is amazing.
Only man to have held all four Grand Slams and Year-End Masters title at the same time – while these were not completed in the same season, this is a remarkable achievement.
No other player in the HISTORY of the game has achieved this.
The GOAT: Revealed
So after all this, what is our decision to settle this debate once and for all? It's the moment you've all been waiting for …
The answer: Roger Federer.
Apologies to all the Nadal and Djokovic fans reading this!
Federer's Grand Slam title record is the most obvious reason. Having won 20, he is 2 ahead of Nadal and 4 ahead of Djokovic.
His game style is like nothing the tennis world has ever seen before. The sheer effortlessness of his swings is like watching poetry in motion, and his shot-making isn't too shabby either!
The fact that fans all over the GLOBE ADORE him is also a major determining factor.
He is quite literally LOVED at whatever tournament he plays at and is always the crowd favorite. This makes him an icon of the game.
Finally, what he is currently doing on the tour makes him stand out from the others. The guy is 38 years old and still competing for Grand Slam titles; it's a borderline miracle that he is able to do this!
Why Not Nadal?
While Nadal has an amazing record against Federer, we feel that the numbers do not accurately reflect the rivalry.
If we take away Nadal's clay-court achievements, this leaves him with 6 Grand Slams and 10 ATP 1000 titles.
Of course, his clay-court achievements factor into the ultimate statistics, but we feel this is an indication of his GOAT status for clay court tennis – not the overall GOAT.
Why Not Djokovic
This was a tough choice, really!
Djokovic has DOMINATED both Federer and Nadal in recent years, and has a winning record against each of them. His gameplay right now is incredible, which is probably why he is ranked world number 1!
However, Djokovic is currently on 16 Grand Slam titles vs. Nadal's 18 and Federer's 20. This being said, the Serbian is currently chasing history and looks primed to rack up more Grand Slam titles over the coming years.
Will he catch Federer?
We can't wait to find out.
So – congratulations to Roger Federer on winning this heated debate, and best of luck to all three for the future.