There are a lot of soccer socks on the market that aren't suitable for use.
You can tell IMMEDIATELY by the feel of some socks that they will cause itchiness and friction on your legs. If this is the case, return them immediately.
Your Guide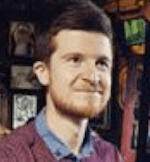 Alex Waite
Luckily, socks are the least expensive piece of football kit you will have to purchase and the QUALITY materials used to make most football socks now make them airy, breathable and safe too.
Socks used to get heavy, smelly, and worn easily in the past. But there are now lots of options available to soak up the sweat and rain when you play.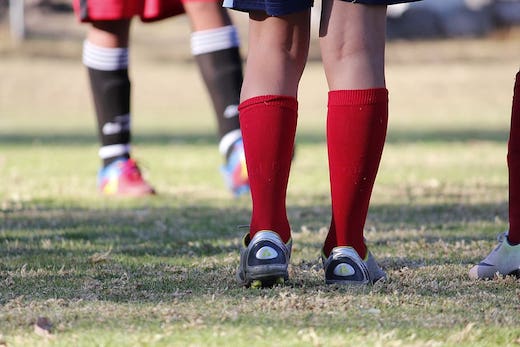 You can also wear lots of socks all year round due to the modern materials, such as spandex, nylon and polyester, being used to make modern football socks.
Always check the size of your socks before purchasing and try them on before playing. If they are too big, your feet will slip around in your boot, affecting balance, agility and speed.
If they are too small, they will rub and could lead to blisters and skin irritation.
#1: Nike Classic III Socks
Nike football socks have been a staple for many professional and amateur football teams for decades. The BRAND is known for excellent quality but usually comes at a cost.
However, the Nike Classic football socks offer an affordable pair of socks and are made with excellent materials.
While they are not flashy or hugely stylish, they are a great option if you play in a variety of weather conditions, like here in England where you can get all sorts of WEATHER all year round.
The Nike Classics also offers comfort and some protection for your legs and their durability makes them a great choice for players who are just starting out.
Key Features
DRI-FIT fabric to help breathability and coolness
Reinforced toe and heel prevent wear to bottom of socks
Nylon outer material for comfort
Arch support ensures a secure fit around feet and legs
Specification
Available from sizes 1 to 15
A variation of colors is available
Weight (approx. 426g)
Pros
Very durable for all weathers, including wet weather
Stretchy materials help for ease of use and comfort
Cheap price for a branded product and good value for the quality provided
Cons
Players with larger legs may struggle with the tightness of the socks
It May feel tight when used with more bulky shin pads and ankle supports
#2: Under Armour Men's Football Socks
The Under Armour football socks are a more expensive option. But they have the latest technology and designs so they are durable, long-lasting and offer amazing comfort, which feels great when you are playing on a cold, wet, wintery MORNING.
These boots have also been designed to, believe it or not, improve the smell of your socks after wear.
It may seem a bit of a gimmick to some people, but if you have been in a changing room after a match and walked past a pile of used socks, you may be drawn in by Under Armours odor-reducing design.
Cushioning in these socks also provides extra comfort, so you may want to spend the extra money for that little bit more comfort whilst playing.
Key Features
Strategic cushion for extra support and comfort
Heat Gear fabric prevents excess sweating from feet
Nylon material used for comfort
Armour Block technology stops odor forming in sock
Specification
Sizes small to XL available
Six different colors available
Very lightweight (approx. 136g)
Pros
Stylish design gives them a modern look and feel
Very comfortable and warm due to true fit
Durable due to high-quality materials and technology used.
Cons
More suited for autumn and winter use
More expensive than other socks available (approx. £20-£30)
#3: Adidas Copa Zone Socks
Adidas football socks have always stuck with the iconic three stripes on their socks. Their affordability also makes them POPULAR amongst amateur players and teams.
Often you will see almost every team on every pitch sporting Adidas socks.
But the modern tweaks Adidas have made to their socks mean they fit tightly to your legs, but also remain lightweight enough to support the speed and agility of players.
The AdiSocks have also been designed to mold to player's legs and to keep players both cool and warm, depending on the conditions.
These may be the perfect choice if you have to ENDURE wet, rain, sun and heat during the same match!
Key Features
Climacool technology keeps legs warm and dry in winter, but cool in summer
Techfit gives a tight fit and adds compression for extra protection
Lightweight cushioning supports player's movement
Ergonomic fit molds the socks to player's legs.
Specification
X-small to XXL sizes are available
Lots of different colors available
Adidas embroidered logo and three stripes design on the sock
Pros
A tight fit ensures they don't fall down when running at a speed
Very breathable, yet keep your feet dry and warm in colder months
The lightweight feel of the sock makes mobility and movement easier.
Cons
Stitching can fray on these socks after lots of use, not the most durable
Mesh design on the back of sock doesn't offer the greatest protection for the back of legs. Extra protection may be needed with these socks.
#4: Joma Classic II socks
Joma is a brand more known for rugby products rather than SOCCER.
But their classic brand of socks caters to all sports and they are a cheap option on the market without compromising the quality of their product.
Their Classic II brand of socks is a simple design and can be used purely for practical purposes rather than worrying about style, design, or fashion.
With 90% cotton and 10% elastane, the Classic IIs are extremely comfortable and are very soft so you will not have to worry about your feet becoming damaged from poor materials.
They are also an excellent option for training as they do not cover the ENTIRETY of your leg but instead come up just below the knee.
Key Features
90% cotton for a soft feel around foot and legs
Ribbed, elastane material at the top of the sock ensures a tight and comfortable fit and feels secure when playing.
Blanket color with black writing for Joma logo.
Specification
A range of sizes available (small, medium and large)
A full range of colors are available.
Joma branding print on the upper foot doesn't impose on the design of the sock
Pros
Lots of different colors available (some sellers offer up to 16 color ranges.)
A less expensive option for football socks (approx. £4 from certain sellers)
Available to buy in bulk if you are buying for a team or for training purposes.
Cons
As these socks aren't knee length, they are more suitable for warmer playing conditions or for training purposes, where there is likely to be less contact with other players.
Can feel quite heavy when wet due to the lack of material used for wet weather.
Modern football socks have been designed with player comfort in mind. Quite often, they will COMPLEMENT the boots you wear, but this is only optional and can be expensive.
There are plenty of affordable options to choose from when selecting your socks. The main things to consider are the conditions you will be playing in and how to prevent friction and irritation on your feet and legs.
Ultimately, these choices will lead to better performance and enjoyment of soccer.
All three of the options above offer something slightly different but can be used for all conditions, with exception of the Under Armour socks which are more suited for autumn and winter soccer.