Your Guide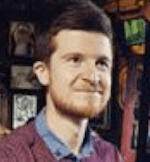 Alex Waite
Coaches Choose the Best 9v9 Soccer Formations to Get the Best Out of the Players in Their Squad.
Hundreds of Formations Are Available and Each Has Its Pros and Cons.
Formations Are Not Rigid, Coaches and Players Can Train and Utilize Various Formations in Matches.
Picking the best 9v9 soccer formations can be a challenge for coaches and soccer players.
In reality, having fewer players on a team should give a coach fewer headaches regarding formation. But it is actually MORE DIFFICULT in some respects.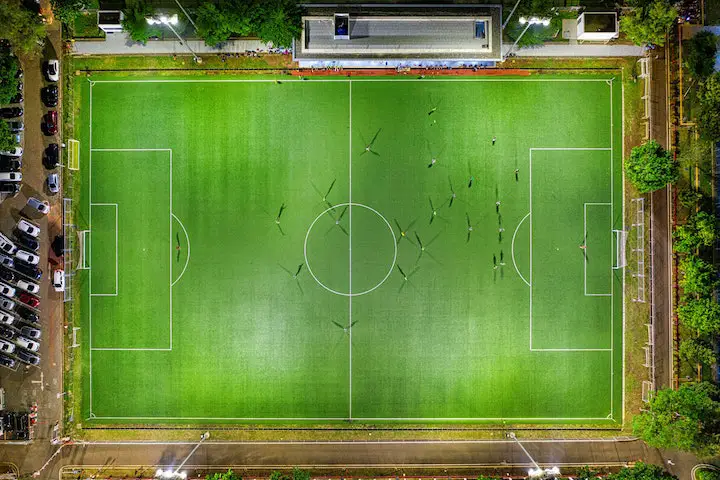 For example, in one season, I coached 9v9 youth soccer and had 15 excellent players in my squad.
As per the English FA's guidance for youth players in small-sided football, my role was to GET THE BEST out of these players…
…by putting them in positions where THEY WOULD EXCEL, whilst keeping the balance of the team. 
However, getting the best out of each player whilst remaining competitive in matches was initially a challenge.
We experimented with various 9v9 formations until we eventually found a settled tactical setup that suited our needs. 
Although we did not win any leagues or trophies in that season, the players enjoyed their soccer.
Also, I learned a lot as a coach that the formation in this form of soccer is essential to a well-balanced and happy team. 
To help 9v9 coaches and players make the best choices when it comes to picking the right formation, we provide some analysis of some of the most common tactics.
Also, we will outline some of the pros and cons of the available formation. 
What is the Best Formation in 9v9 Soccer?
Unfortunately, no ultimate, best 9v9 soccer formation will produce miracles.
Players and coaches have a huge number of options available when it comes to setup and tactics.
However, the main considerations are always these:
How do I get the best out of my players available?
How can I create development opportunities for players?
How can we remain competitive?
Again, there is no quick way of getting the formation and tactics right straight away.
In fact, rotating players, especially developing youth soccer players, has benefits and coaches can implement 'shifts' and a 'three-game rotation' model to support soccer role familiarity.
In my experience, after playing or coaching matches, I often left after a defeat and tried to figure out WHAT WENT WRONG.
Sometimes, I'd be at work the following week and ideas on formation changes would spring into mind that we could try in the upcoming matches.
This trial and error is a good way, especially at the youth level, to find what suits your players best and to find what builds confidence. 
Alternatively, coaches may find that some formations stick straight away.
Occasionally, players get their instructions and the tactics and the whole team clicks.
But, training different formations for competitive soccer does not harm either.
Through this, players get exposure to DIFFERENT STYLES OF PLAY and they develop their knowledge and understanding of soccer.
Below, we share some of the most common 9v9 formations used in soccer.
However, these are a starter guides, each with pros and cons.
Essentially, there are hundreds of different ways to set up a team and picking the best formation will depend on the strengths and weaknesses of the players available. 
3-3-2 Formation
This is my go-to formation when I take on a coaching position with any new team.
I regularly use it during pre-season training sessions or as a starting point.
This is because one of the most balanced formations and I can see what positions players are best suited for.
In addition, research shows that playing young players in certain positions in training should be done before giving them REAL MATCH EXPOSURE in an unfamiliar role. 
Tactically, there are also benefits to the 3-3-2.
For instance, it makes your team hard to break down with two lines of three defenders and three midfielders.
But, the setup also helps the team to get forward and attack in numbers, with the midfield three, or even the defenders, moving up the pitch when in possession. 
Yet, the downsides are the lack of flexibility, which requires players to be quite rigid in their approach.
For example, when I first used this formation with one youth team, I put one of my players on the right in the midfield three.
He wasn't used to defending and he became a weakness in the formation when the other team had the ball.
The same applies to the attacking players, who sometimes stay too far up the pitch in and out of possession. 
4-3-1 Formation
Any team that is loaded with good defenders may prefer the 4-3-1 formation.
This setup has four defenders, similar to how many 11v11 sides would pick their formation, with two central defenders, and two fullbacks. 
One benefit of this formation is that all defensive areas should be well-covered when the opposition is in possession.
For instance, the two full-backs should snub out any danger from wide areas and the central defenders can control the more narrow sections.
It also has the option for players to be flexible, with the full-backs joining in with attacks and the midfielders contributing more offensively when necessary.
But, one of the biggest cons of the 4-3-1 is the lone striker's isolation.
Often, playing as a lone striker effectively requires excellent awareness and tactical positioning.
When the ball is released to the striker in this formation, it is often their role to keep possession and pass to teammates when they support.
Alternatively, they CAN GO IT ALONE to cause a goalscoring threat on the counterattack. However, for many, developing players, these demands are quite challenging. 
2-3-3 Formation
In contrast, the 2-3-3 formation is a more attacking-minded approach to 9v9 soccer.
Three attackers and midfielders mean the team tries to control the match in the opposition's half.
However, the midfielders and attackers may play more fluid roles when defending, running back to support the two-player defense.
This setup helps the team to keep pressure on the opposition by pressing them high up the pitch.
Also, attacking options are plentiful with lots of players supporting attacks when a team is in possession.
\But the clear downsides are from a defensive viewpoint.
Playing two defenders is a RISKY MOVE and leaves a team vulnerable to counter-attacks.
Also, the midfield players may have to work hard, running up and down the pitch to support defense and attack.
Ultimately, using this formation will depend on whether you have effective attacking players.
Coaches may also need their defensive pair to be very organized and structured to all the attackers to keep pressure on the opposition. 
2-1-2-1 Formation
The 2-1-2-1 formation has quite complex tactical roles that resemble similar positions on an 11v11 setup.
In this formation, a midfielder plays just in front of the defensive pair.
Then, two other midfielders occupy spaces higher up the pitch to support a lone striker.
With this formation, the players are distributed well across the central areas of the pitch, which forces the opposition into wide, unthreatening areas when they attack. 
One of the key roles in this formation is the player in front of the defense, also known as the holding midfielder.
This player often tries to break up opposition attacks and then distributes the ball to DICTATE THE TEMPO of the game.
This requires positional awareness, good vision and communication with teammates.
Although this formation provides a good balance between defense and attack, essentially with a three-player defense and three-player attack, there are some cons.
The narrow setup leaves teams vulnerable to overloads in the wide areas.
For instance, the two defenders can easily be drawn from central positions into wide positions, exposing vulnerable areas. 
Why is the Formation Important?
Soccer formations are important because they give the team structure and a common goal when approaching a match.
The formation could be based on attacking or DEFENDING EFFECTIVELY.
Additionally, it can be used and adapted to counter opposition threats or play to your team's strengths.
However, as child soccer players develop and they move up to 7v7 and 9v9 formats, they can develop a deeper understanding of the sport by playing in formations.
Exposing young players to formations can help development and awareness. 
Although, doing this too early and being too rigid with player positions and roles can backfire.
Ultimately, as coaches and passionate soccer fans, we want young players to enjoy soccer and play with youthful freedom first and foremost.
Choosing the right formation can achieve both of these aims, but understanding your players and how to utilize their strengths is the key to achieving the balance between player development and enjoyment.