Are you a little bored of just going through the motions with kicking THIN AIR whilst waiting for your next Taekwondo lesson? Taekwondo Punching Bag is the answer.
What is Punching Bag In Taekwondo
For people new to martial arts – A punching bag is used across various material arts, and Taekwondo is NO EXCEPTION.
The Taekwondo punching bag gives you the ability to practice your kicking techniques and various kick combinations to the bag you learned in class.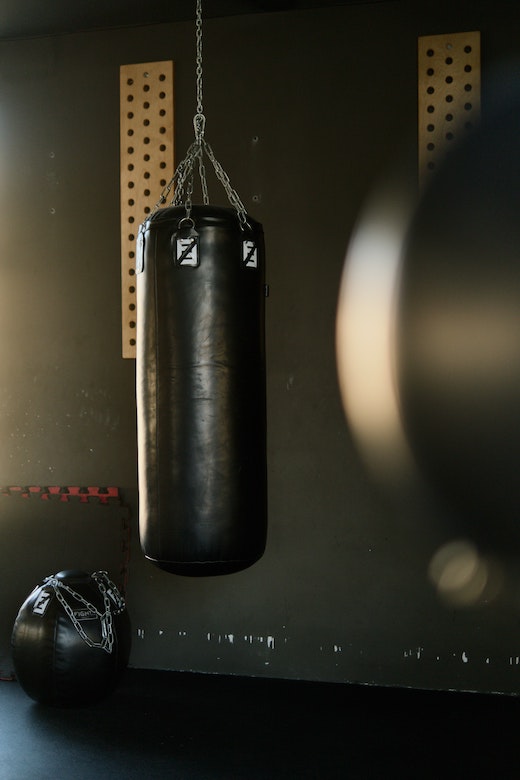 Well, the dilemma you could face is hanging a punching bag or a standing punching bag.
I went for a free-standing punching bag simply due to space and location limitations in my house but had I had a good location to install a free-standing punching bag, that would be my preference.
Hanging Punching Bag VS Free Standing Punching Bag For Taekwondo 
The majority of Taekwondo players prefer hanging punching bags compared to freestanding punching bags. 
There are Taekwondo players who don't mind freestanding punching bags…
..However, most Taekwondo players are not too fond of kicking a free stationary punching bag because a freestanding punching bag FEELS RIGID to practice Taekwondo kicks and to FULLY FOLLOW THOROUGH with your kick. 
Still, they are fantastic for punching, particularly body shots. 
It is a little less fun to do a combination of kicks on the freestanding punching bag as the bag stays stationary and does not move.
In comparison, you get some movement of the bag from a hanging bag. 
Hanging Punching Bag
Hanging punching bags can be more fun because:
You Can Follow Through With Your Kicks Better, and
The Target Does Not Stay Stationary After Your Kick. 
Hanging punching bags require slightly more space and effort to install; however, they are awesome for practicing your Taekwondo kick. 
See how much fun this guy is having with the hanging punching bag for Taekwondo. 
Freestanding Punching Bag
Freestanding punching bags are:
Easier to Install
Cost Less, and
Are Perfect for Beginners to Practice Their Roundhouse, Sick Kick, and Back Kicks.
Spinning hook kicks in both Freestanding and hanging punching bags are not great to kick with full power because you can't fully follow through with your kick as you are likely to hurt your knees. 
You can do tons of kicking drills in a freestanding punching bag; however, personally, I love and prefer hanging punching back compared to a free-standing punching bag for kicking and punching, too because YOU GET MOVEMENT FROM THE BAG.
Taekwondo Punching Bag Use and Purpose
Taekwondo Punching bag is used for:
Developing power in your kicks
Practice your defensive and offensive kicking techniques in the bag
Toughen up your feet and hands
Enhance your aerobic fitness/stamina
Improve your coordination and balance of your kicks
Conditions your tendons and bones 
You will find Taekwondo punching bags used in almost every dojang, and they are a lot of fun to get your frustrations out 🙂
What Kind of Punching Bag Do You Need For Taekwondo
It would be best to have a punching bag, ideally half your weight, to practice your taekwondo kicks.
A larger heavy bag will allow you to practice your kicks with SPEED and POWER. 
Hanging punching bags are ideal for Taekwondo kicks; however, freestanding punching will also do a decent job. 
Taekwondo Punching Bag Drills and Training
As the saying goes, TRAIN HARD FIGHT EASY.
Taekwondo punching bags are a great alternative if you are training alone or don't have a training partner to hold a kicking pad. 
There are several ways you can do this in terms of the rounds, as Taekwondo matches are 2 minutes of 3 rounds.
You can set a timer for 4 minutes of 6 rounds, so you are doing twice the time required during the competition. 
Alex has dozens of taekwondo drills videos, from basics to advanced, which you can IMPLEMENT IN YOUR TAEKWONDO DRILLS.
Kicking a Punching bag is lots of fun; be sure to create your combination and techniques and have fun with it. Here is a great example:
Bob is fantastic for practicing your spinning hook kick or any combination of head kicks to Bob's Squishy face. 
What Is The Best Thing To Fill A Free Standing Taekwondo Punching Bag
You have a couple of options here.
1) Filling up your freestanding Taekwondo punching bag WITH WATER should be sturdy enough for any roundhouse kick side kick, among other kicks. 
It may even withstand step-in back kicks with full power, depending on your size. 
2) To make your base strong and stable, fill the freestanding punching bag WITH SAND.
More often than not, however, filling the freestanding punching bag with water should be sufficient. 
Taekwondo Punching Bag For Kids
Punching bags are great for kids; not just a great way to keep them active but also help them continue to get better while away from Taekwondo classes. 
A freestanding punching bag will be great for kids and gives you a perfect excuse to train them on the side. Acoodone Free standing punching bag is an excellent option and not too pricey.
Best Inflatable Punching Bag Taekwondo
Suppose your kid is younger than seven years old. In that case, you could consider getting an inflatable free-standing punching bag, among which Cestbella produces great inflatable free-standing punching bags for kids. 
Best Hanging Punching Bag For Taekwondo
Outslayer has an excellent reputation and produces gold-standard punching bags for Taekwondo.
Overall, it is a high-quality product and a solid punching bag for Taekwondo. 
Best Punching Bag For Taekwondo
Outslayer is the best punching bag out there for Taekwondo currently in the market. 
Suppose you are looking for a freestanding punching bag option.
In that case, Century has an excellent reputation and produces one of the best freestanding punching bags for Taekwondo training.