Your Guide

Gavin Davison
Top Tennis Shoes For Kids
Best Tennis Shoes For Kids

Top

Top

adidas Courtjam X Tennis Shoe
Check Price

Top

Top

ASICS Kids Girl's Gel-Resolution 8
Check Price

Top

Top

Top

ASICS Kid's Gel-Resolution 8 GS
Check Price

Top

Top

Babolat Junior Jet All Court Kids' Tennis Shoes
Check Price

Top

Top

New Balance 996 V3
Check Price
Kids may be a bit more concerned with LOOKING COOL and TRENDY compared to us adults.
But unfortunately, looking cool isn't going to guide them towards the right pair of tennis shoes.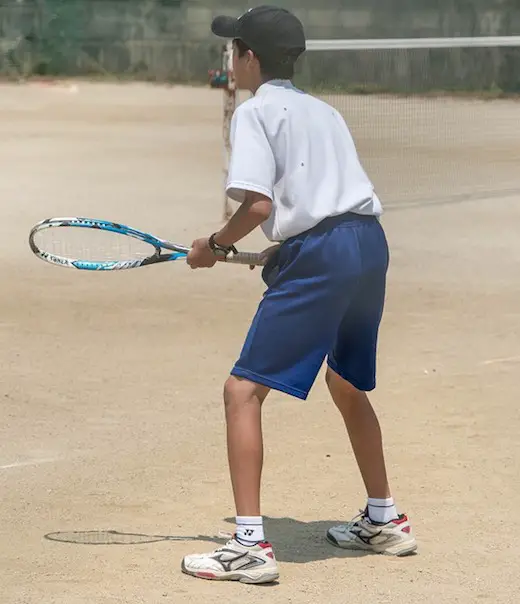 Sometimes, we adults need to step in and talk some sense to the kids, but that doesn't mean we can't find a great pair that also LOOKS QUITE COOL.
Besides the appearance of kid's tennis shoes, I highly recommend looking for shoes that are incredibly stable and durable.
Let's face it, kids are always throwing themselves around and attempting some quite risky stunts at times, so finding a pair that is stable and durable is super important.
What To Look For
So, let's get back to the two key characteristics here – durability and stability.
Now, stability in this sense means that the shoes should have a reasonable degree of strength around high-impact areas like the front, heel, and sides of the shoe.
With kids, no area of the shoe is safe due to how active and hyper they can be at times, but we can at least choose a shoe with protection in the right areas.
With durability, I can speak from an area of experience. Having played tennis for up to 6 hours a day at some point in my youth, my shoes would sometimes last around 2-3 weeks.
Needless to say, if each pair of tennis shoes costs you upwards of $100, the expenses really can add up.
I used to find that my shoes would wear out quickly towards the toe region and on the sides, but then again, I did often slide around the court rather chaotically.
I am sure I wasn't alone in this, however, so finding shoes that are thick and reinforced in these areas is never going to hurt.
Now, it may have been a while since I wore my own pair of kids' tennis shoes, but since I continue to coach kids tennis to this day, I do have a shoe in mind that the majority of kids rave about.
I am sure that one of the reasons this shoe is so popular with kids is due to the unisex color. As you can see these tennis shoes could be worn by both girls and boys, and the design is rather cool.
So that takes care of kids being concerned about how they look in a pair of shoes, but how about the key features?
Well, these shoes have the classic Asics GEL technology, which makes them super comfortable for a start.
This technology gives better cushioning in both the forefoot and the heel, and it even has what is referred to as an AHAR outsole. To you and me, that basically means that the shoe has been built with durability as one of the key features.
These shoes are also very sturdy around the edges, so even the most active kids should still be good in terms of keeping their balance.
Best Kid's Tennis Shoes for Boy
Best Kid's Tennis Shoes For Girl
Useful Links