Your Guide

Gavin Davison
There are various pieces of equipment in tennis that can impact how you play. This can include what rackets you play with, what strings you use, what shoes you wear, and many other factors too.
With that said, one of the most overlooked areas, in my opinion, is what grip you ACTUALLY STICK on your racket.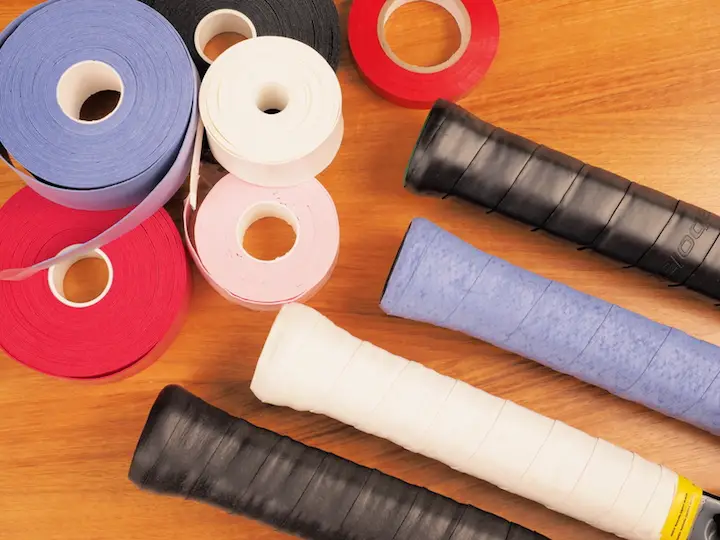 In tennis, you can play with replacement grips or overgrips, and people have different preferences in this regard.
For me, I always play with overgrips as they provide a better performance in terms of tackiness and feel. But hey, that's just me – you might want to look for grips that deliver on other areas.
However, for the purposes of this piece, I will specifically be focusing on how to find the best overgrips and what they actually have that makes them special.
Rather than hit you with too many products to comprehend, I've chosen my top five that I feel will suit you well, and it's all detailed for you below.
My Favorite Tennis Overgrips
Most of the sizable tennis brands offer replacement and overgrips these days, but they aren't all as good as one another.
Over the years, I've sampled more overgrips than I could possibly count, and this experience has led me to provide the following recommendations:
#1 Wilson Pro Overgrip
Wilson is one of the most successful brands in tennis.
This brand has supplied the likes of Roger Federer, Serena Williams, and more with quality equipment over the years, and this quality has extended to overgrips.
I've used this grip quite a few times in the past, and I must say, the comfort it provides is awesome.
For that reason, I'm not surprised in the slightest that many professional players use this grip on tour, and there are some impressive specs too:
Key Features
0.60mm thickness
Used by Roger Federer
Stretchy felt material to fill entire grip
Available in multiple colors
Pros
Perfect for two-handers
Extra tack and length
Cons
As you can see, the grip is incredibly thin which is perfect for those of you who prefer a 'closer to the handle' feel.
It's also incredibly stretchy which ensures that you will be able to wrap the grip all the way up the handle – ideal for those with a two-handed backhand.
And finally, from a purely aesthetic point of view, the white color looks awesome on most rackets.
#2 Babolat VS Touch
Over the years, I've typically played with Babolat rackets, and I've had many spells where I've absolutely loved this overgrip.
It's actually used by many players on tour, including the great Rafael Nadal, and in terms of the feel, it's fantastic.
Some people think that with the grip being so thin it could lead to an unpleasant feeling, and too much friction between your hand and the handle – but it's simply not the case.
Key Features
0.43mm thickness
Endorsed by Rafael Nadal
Thin yet comfortable
Pros
Thin grip is great for feel
Very tacky when new
Cons
If any equipment is good enough for Rafael Nadal, a 20-time Grand Slam winner, something must be good about it, right?
I know it's tough to grasp too much just from looking at the features alone, but personally, I love the thin grip as it makes you feel like you have better control on the ball – probably because there's a closer connection between you and the racket.
#3 Tourna Mega Tac
Tourna Mega Tac Extra Tacky Overgrip, Blue, Size 10
10 XL grips per package, includes finishing tape.

TOURNA MEGA TAC is the tackiest tennis grip ever created. Period. No other grip comes close to delivering the same feel.

TACK THAT LASTS. Mega Tac lasts 10 times as long as other tacky grips. Most other tacky grips lose their tack in about 30 minutes of play. Mega Tac lasts about 10 to 14 hours under normal playing conditions.

Durable construction, Mega Tac will last a long time without falling apart, rolling up, or unraveling.

MADE IN THE USA HIGH PERFORMANCE GRIPS BY TOURNA are ideal for tennis but also great for Pickleball paddles, Baseball bats, Badminton racquets, Squash Racquets, Racquetball Racquets, Ping Pong Paddles, Golf Grips, Bike Handlebars, Archery, Rowing, Dumbbells, Fishing poles, you name
Tourna Grip is one of the older brands on this list, but they have also enjoyed one of the lengthiest success spells in the game.
Rather than attempting to create equipment to cover all areas, this is pretty much a company that only produces grips.
This focus has allowed Tourna Grip to be at the very top of the game when it comes to overgrips, and the grip mentioned here is an upgrade (or at least a chance) to the original that was used by greats like Pete Sampras and Andre Agassi.
Key Features
Highly absorbent
Incredible tack
Lengthier than other overgrips
Pros
One of the tackiest grips around
Doesn't wear easily
Cons
As the branding of this grip suggests, it really is one of the tackiest grips ever made.
Sometimes, it feels like you quite literally need to peel your hand away from the grip.
This is awesome if you tend to lose your grip, whether through sweating or because of the way you contact the ball. And these grips are very fair on price too I might add.
#4 Head Prime Tour
HEAD Xtreme Soft Racquet Overgrip – Tennis Racket Grip Tape – 3-Pack, White
HEAD PERFORMANCE: Born out of revolutionizing how we ski and play tennis, HEAD has constantly pushed athletic equipment into the modern era. With decades of experience in all racquet sports; HEAD offers nothing but the best tennis equipment on the market.

ENHANCED GRIP: Made from a specially engineered tacky elastomer material, HEAD tennis racquet overgrips offer added grip for more control with every shot.

MOISTURE ABSORBING: Hold tight through the most intense rallies with a tennis racket overgrip that absorbs excess moisture. Dry hands means more precision when you need it most.

SUPERIOR FEEL: The racquet grip tape is an ideal overgrip to wrap over your racquets worn stock handle. Remember, youre only as good as your equipment!

EASY APPLICATION: Each pack comes with 3 easy-apply overgrips. Simply, find the adhesive on one end of the grip, make one full wrap, then begin to overlap working your way to the end of the hand
Compared with the other brands on this list, Head is the one that has really stepped up their game in recent years.
The rackets have got better, the shoes have improved, and as it happens, the overgrips have improved a great deal too.
While Head offers a number of different overgrips with their range, for me, the Prime Tour overgrip is best regarding overall performance.
Here's what the grip delivers:
Key Features
Available in multiple colors
Sweat absorbent
Comfortable feel
Pros
Lengthy to fill whole grip
Cost-effective overgrip
Cons
Can get too smooth when worn
This grip might not be as good as some of the very best in the market like Wilson or Babolat, but then again, you aren't paying the premium here either.
And since the grips still deliver on critical factors like comfort and sweat absorption, you're still getting good value for your money.
#5 Tourna Grip Original
Tourna Grip XL 5 Grips per Pack, trademarked Blue
THE CHOICE OF PROFESSIONALS. Tourna Grip is the only grip that gets tacky the more you sweat. Tourna Grip starts with a Dry Feel but once you start sweating, the grip becomes more tacky and gives you a better grip.

Tourna Grip starts with a Dry Feel but once you start sweating, the grip becomes more tacky and gives you a better grip.

5 XL GRIPS PER PACK. Includes 5 strips of Finishing Tape.

Used by HUNDREDS of Touring Pros! The proprietary technology of Tourna Grip enables moisture to wick moisture through the grip instead of back onto your hand which creates slippage.

You can identify Tourna Grip by its famous blue color on TV, magazines, or on the court next to you! Tourna Grip is also the only tennis overgrip MADE IN THE USA
Here we have one of the all-time greats – the original Tourna Grip. Before other companies dived in and started to create their own overgrips, this one was used by many top players, and it's remained popular even today.
Over the years this has been the grip of choice for players like the Bryan brothers, Jim Courier, Richard Gasquet, Pete Sampras, Andy Roddick, Venus Williams, Andre Agassi, and countless others.
The fact it's still going strong is a testament to the quality of the grip too.
Key Features
Carpet-like texture
Grip of choice for many top players
Increased tack when wet
Pros
Unique feel
Great padding
Cons
Few grips have achieved such fame as the original Tourna Grip, and with good reason.
This grip has an awesome feeling when you first put it on, and the carpet-like texture makes it nice and soft on your hands.
Amazingly, it's soft without feeling slippery too, which ensures you get that connection between hand and handle to feel in control. It's also full of history, which you can learn about right here:
This was a close contest – a very close contest!
In my experience, the five overgrips that I've mentioned here are all phenomenal in their own rights.
All have decent tack, they are used by top players, and above all, they will help you to play the sport of tennis to the best of your abilities.
But if I had to choose one, it's the Wilson Pro Overgrip.
The sheer tack, feel, and durability of this grip rises above the rest, and even if the grips are more expensive than others – it's well worth it in the long run.
Have your own favorite overgrips that you'd like to share? Let us know in the comments.