Are you excited to Slam-Dunk into a Fantastic Birthday Celebration that will be discussed in years to come?
Here are the top BIRTHDAY IDEAS that are FUN and EXCITING, and some of these birthday ideas will surely get you and your guest's competitive juice flowing.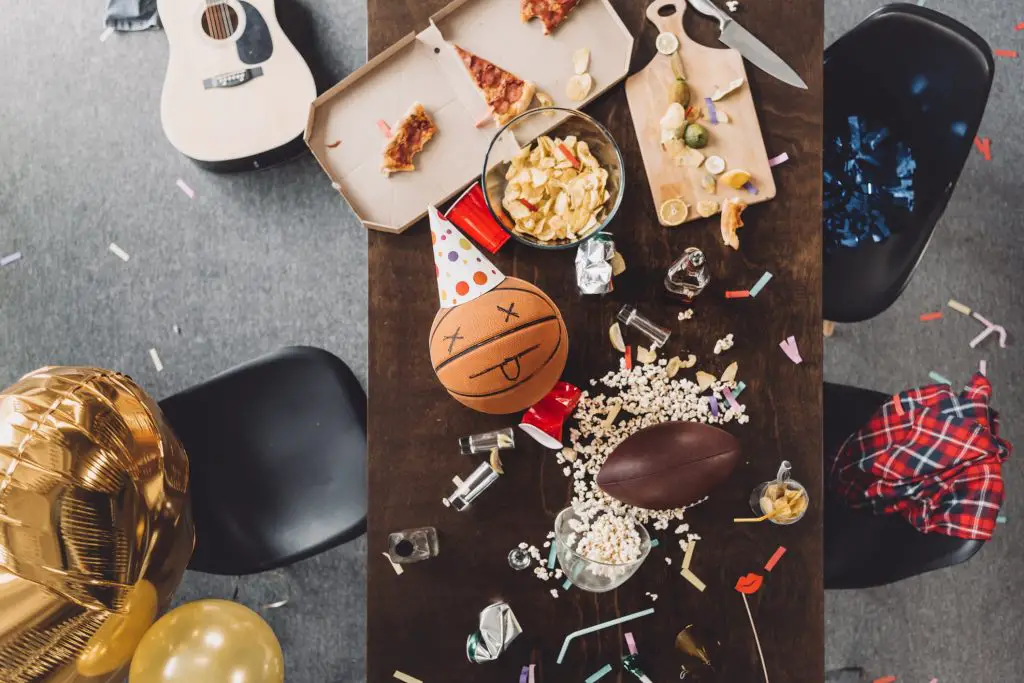 Obviously, I do have to warn you not to get too competitive and focus on the FUN! 🙂
On a side note, if you are preparing this for your loved ones, You know how much they LOVE BASKETBALL…
..Even if the party does not go perfectly as planned, I can guarantee that the birthday boy or girl will definitely Remember Your Kind Gesture and the Hard Work you have put into this birthday party in YEARS TO COME!
Most importantly, I find with these types of theme parties, it is essential to focus on the Fun and Laughter rather than being focused on minute details.
Get Creative, and participants could even create their OWN RULES!
So pick the idea you like and go with the FLOW!
My personal favorite is No. 1 in combination with No. 2 and No. 6.
1. Decorate and Dress up
Assuming the birthday party is taking place at home, Decorate the entire party space with Basketball-themed Items, Such As Table Cloth, Balloons, Napkins, Paper Cups, And Happy Birthday Banners, which can be EASY to find on amazon.
Ask the guests to be admitted to a party, they need to WEAR ANY BASKETBALL UNIFORM like their favorite basketball player Jerseys.
I would get everyone to wear full basketball jerseys of their favorite team/basketball player.
You could even get everyone to wear a birthday boy or girl's favorite basketball player jersey, which could be pretty interesting!
Now people are dressed up in their basketball uniforms and decorations are sorted, it is time to play some fun games.
2) Basketball Quiz
It's time to see who is the real basketball Whiz and who is the true Basketball Fan. Since the birthday boy/girl likes basketball, their friends probably know have a fair amount of basketball knowledge.
Divide the team into 2-4 sections depending on how big the group is. And the losing team has to do what the winning team says, like dance or sing a funny song or something silly.
Depending on how knowledgeable the group is about basketball, you could compile a list of questions or use the book below, which has exciting basketball questions.
It may be wise to divide the team, each with a person with more general basketball knowledge, to keep the game competitive and engaging.
3) Basketball Face/hand Painting
For the children's basketball birthday party, face painting could be very popular, but who knows adults may enjoy the fun too.
You could hire a face painter or get your friend to paint guests' faces or hands with a basketball or team logo.
4) Basketball Movie Night
He Got Game is a good option even though the movie is from the late 90s, which not only has Denzel Washington but an actual NBA player who grows up to be among the top 3-point player (Ray Allen) in this movie.
Unfortunately, there have not been many good basketball movies lately, and many films tend to be a quite old school movies but there are pretty decent ones out there, like:
5) Photobooth
As your guest already have their basketball gear on when you've invited them to your basketball theme birthday party, it could be a cool idea to set up a photo booth with basketball, and foam fingers, among others. It will be a fantastic MEMORY for the future.
6) Basketball Competition
There are endless basketball games you could play:
Two v Two Tournament: The birthday girl/boy could get the strongest player, right? This could also be 3v3 or 1v1, depending on the group size.
Dunk Competition is a GREAT choice for your guests to show off their dunks (but usually everybody usually always already knows already who the best dunker is)
Game of H-O-R-S-E: Simple game is never dull. Each guest takes a turn to take a shot and the rest of the guests copy the shot if the shot has been made. Watch out for your nerd friends usually, they are the ones with the most creative shots 🙂
Free Throw Challenge: If you have a large group, the guests who make the shots remain in the game until they miss and the last man standing wins. Or each person gets unlimited free throws until they miss. It will be cool to see who is the really best free throw shooter under pressure!
Obstacle Course: Set up a basketball obstacle that involves dribbling, passing and shooting and see who completes it in record time!
3-Point Contest: Who can make the most three-pointers in a row. Let's see who can potentially give Stephen Curry a real shooting challenge.
Half-Court Shot Challenge: Get your guests to shoot half-court shots. Who knows, it could be somebody's LUCKY DAY!
I don't know the name of this game below but it sure does look a lot of fun.