Many kids that grow up watching NBA basketball can't get enough of seeing SLAM DUNKS.
Our Top Pick:
Let's be honest, seeing a great dunk can bring just about anyone to their feet, but in the eyes of kids even an average dunk will be something epic.
  Your Guide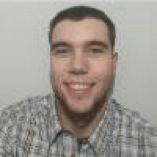 Edis Hajlovac
For many young basketball players, touching the bottom of the net for the first time is a great moment, but that isn't DUNKING yet.
You may have seen shows where performers get a running start, jump onto a small trampoline, and throw down a dunk that not even LeBron could dream of doing.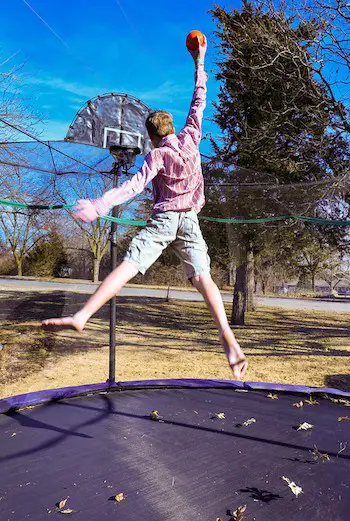 I know many kids who would gladly jump on a trampoline if it meant that they could dunk a basketball, but that can be DANGEROUS even for experienced professional performers, let alone overzealous kids.
Fortunately, trampoline hoops exist as a "best of both worlds" sort of arrangement. They will provide your kids with the opportunity to dunk as much as their heart desires, which providing a SAFE environment that limits injury risks.
Safety will be the primary factor we consider for these rankings, while things such as rim and backboard performance will take a seat way over in the back row for this category.
#1: Springfree Trampoline Jumbo Square
Springfree is a unique brand in the trampoline market for a way in which their trampolines are constructed.
Unlike most others, Springfree trampolines have absolutely no springs. Instead, they rely on a series of flexible composite rods to provide the BOUNCE.
Since springs are responsible for an overwhelming majority of trampoline-related injuries, eliminating them INSTANTLY increases the safety of a trampoline by a large margin.
The rods are also placed in locations where there is no way that the jumper can land on them which is another plus.
The trampoline has a safety enclosure and uses flexible poles instead of metal rods to keep the safety net in place. Since metal rods are another potential source of INJURY, this is also a plus.
The hoop and the backboard are attached near the top of the safety net which isn't ideal but it isn't a deal-breaker either. Both are made of soft materials and have no metal components.
All of the components of the trampoline are built to last and the manufacturer offers a 10-year warranty on all parts. It is probably the SAFEST trampoline hoop out there and a great choice for your new back yard attraction.
Key Features
No hard edges or springs
A unique flexible composite rod system
Safety net with flexible poles to hold it in place
10-year warranty on all parts
Specification
Brand: Springfree
Weight: 194 lbs
Dimensions:118.1 x 106.3 x 118.1 inches
Color: black
Pros
Very safe to use
Durable components
Can be used by both kids and adults
Cons
Takes longer to set up than many other trampolines
High price
#2: Merax Silver 16ft 
This is a large trampoline with a sturdy frame and quite a few safety measures to BOOT.
It uses metal poles to keep the safety net in place but the poles are offset from the jumping area and they are padded. This makes contact with them unlikely, and even if it happens it won't cause INJURY.
The jumping area is pretty LARGE and the user will have plenty of room to maneuver.
 The rim and the backboard are above the general level of the safety net, but additional safety net can be found on both sides of the backboard to prevent accidents.
The only thing I don't really like about this trampoline hoop is the metal rim.
There is very little that a metal hoop can bring to the table because shooting performance is way down on the PRIORITY list with these hoops, while a strong hit on it can cause quite an injury.
It is a very strong trampoline and with proper use, it is safer than quite a lot of other products out there. If you want, you can find some light padding to put on the rim which should make the trampoline even safer to use.
Key Features
Large jumping area
Extra safety net around the backboard
A metal rim
Padded safety net poles
Specification
Brand: Merax
Weight: unspecified
Dimensions:unspecified
Color: silver
Pros
Large jumping area
Good safety features
Easy to assemble
High load capacity
Cons
Has a metal rim
Comes in three separate boxes that may not all arrive at once
#3: Songmics Trampoline With Enclosure
This trampoline holds multiple safety certifications that have GRADED it safe for use by children.
The safety net around the trampoline is held in place by six foam-padded metal poles and the structure is made out of high quality galvanized steel.
This given the trampoline high structural integrity and high load capacity, thus making it suitable for use even by adults or groups or children, however, this can lead to collisions so caution is recommended.
When it comes to the backboard and the rim, they are attached to one of the poles which is not IDEAL but given how the poles are well-padded, it isn't as much of a problem as it could have been.
What is a slight concern is the fact that both the backboard and the rim are above the safety net level and the net on the rim is very long.
This increases the possibility that a finger or a hand can get caught in it. I recommend that you shorten the net at least if you plan on getting this trampoline HOOP.
Key Features
Padded safety net poles
Multiple safety certifications
Galvanized steel structure
High load capacity
Specification
Brand: Songmics
Weight: unspecified
Dimensions:unspecified
Color: black
Pros
Large jumping area
High load capacity
Durable
Cons
Hoops and backboard are above the safety net level
Very long rim net
Assembly can be a bit complicated
#4: Skywalker Square Trampoline Hoop With Enclosure
Unlike the rest of the trampolines on this list that are round, this one has a square shape that OPENS up some interesting opportunities in terms of angles and directions that are simply impossible or impractical to achieve on round trampolines.
The Skywalker trampoline comes with two hoops that are both above the general level of the safety net, but a large additional piece of safety net extends around the hoops thus eliminating any safety concerns.
The two hoops are soft and both have short nets that make it unlikely for a finger or a hand to get caught in them. Two foam basketballs specially designed for use with these hoops come with the trampoline.
The safety net is held up by eight padded metal poles that are of course offset from the jumping area.
The padding on the poles is very LIGHT and the offset serves as primary protection for the user.
Fortunately, the jumping area is large enough that you don't need to go close to the poles.
Key Features
Large square jumping area
Two soft hoops
Eight padded poles holding up the safety net
Additional safety net around the hoops
Specification
Brand: Skywalker
Weight: unspecified
Dimensions:unspecified
Color: black
Pros
Square jumping area offers additional possibilities relative to round ones
Safe rims
Well-built structure
Comes with 2 foam basketballs
Cons
Comes in two boxes that may not arrive at the same time
Lower load limit than many other similar trampolines
Trampoline hoops are a great way to add a new twist to an old concept and a great way for kids to experience DUNKING for the first time.
Modern trampolines have come a long way when it comes to safety features and with proper use, injuries can only be caused by material DEFECTS.
Many trampoline hoops will require you to buy a smaller lightweight ball but they should be pretty cheap and easy to find.
If you decide to INVEST in a trampoline hoop, it may be a good idea to pay a bit extra for expert assembly if you don't feel confident in your skills.
Once the trampoline hoop is set up, just make sure to follow the instructions and to teach your kids how to properly use the trampoline from the start.
This should lead to plenty of FUN for them and no safety concerns for you.