Choosing the right belt is essential for both comfort and performance during training and competition.
Our Top Pick:
If you're in search of a reliable, high-quality BJJ belt that can withstand the test of time, the Hayabusa 2.0 Adult BJJ Belt is an excellent choice.
When looking for the best BJJ belt, factors such as material, size, durability, and overall build quality must be considered.
To withstand the rigors of training and competition, a belt should be comfortable, easy to adjust, and long-lasting.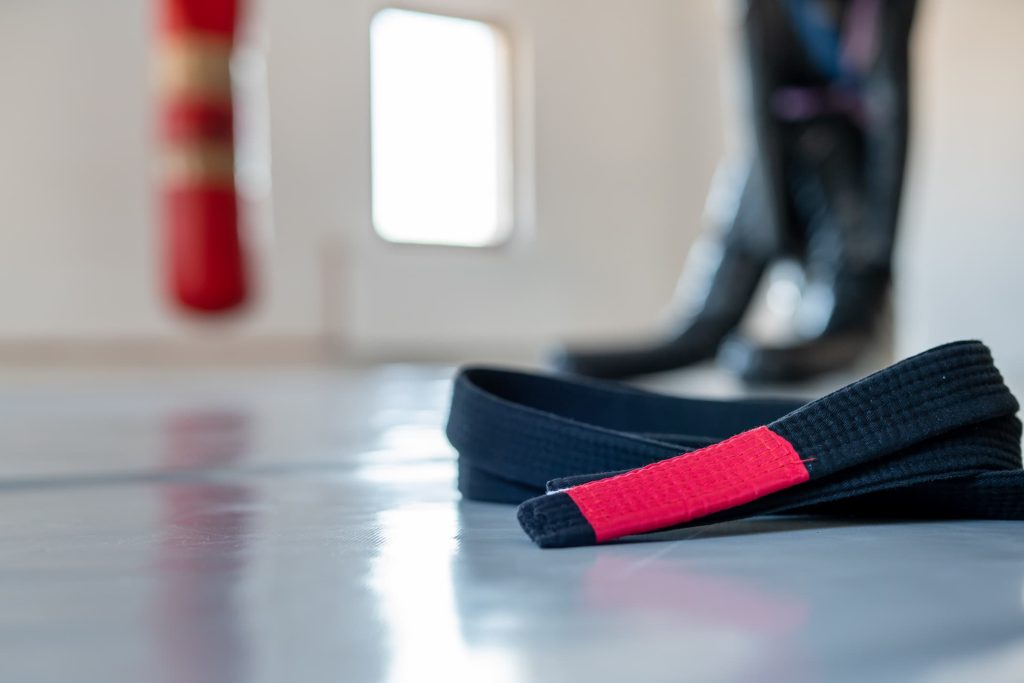 Additionally, the belt's color and ranking system should conform to BJJ standards, accurately representing your skills and accomplishments.
With these factors in mind, we put countless hours into researching and testing various BJJ belts, searching for the ones that deliver an excellent balance of performance and durability.
In the next section, we'll go through our top picks that can help you train and compete with confidence, enhancing your overall BJJ experience.
Best BJJ Belts
Discover the top BJJ belts for your martial arts journey!
Make an impact and excel in YOUR Brazilian Jiu-Jitsu training with these outstanding selections.
FUJI – Premium Cotton Blend BJJ Belt A2 White
This FUJI BJJ Belt offers the exceptional quality and durability that every martial artist needs.
Pros
High-quality cotton blend
Competition-ready design
Available in standard BJJ colors and mid-ranks for children
Cons
Initial stiffness
The color might be lighter than pictured
Pricier than some competitors
As a martial artist, I've found that the FUJI Premium Cotton Blend BJJ Belt provides the perfect balance of durability and comfort for rigorous training sessions. The thick, sturdy cotton blend ensures longevity, standing up to the toughest training and competitions.
This belt's competition-ready design shows you're serious about your sport, and it's even the official belt of Olympic medalist and BJJ Blackbelt Travis Stevens.
Not to mention, it's available in various colors and mid-rankings for children, making it suitable for all ages and skill levels.
However, there are some minor drawbacks to this belt. First, its stiffness might require some breaking in before it feels entirely comfortable.
Additionally, make sure to check the actual color upon receiving the belt, as the shade may be slightly lighter than a picture. Lastly, while its quality is undeniable, the price point may be higher than some other options available.
In conclusion, if you're willing to invest in a BJJ belt that offers a premium experience for both training and competitions, the FUJI – Premium Cotton Blend BJJ Belt A2 White is an excellent choice.
It's high-quality materials and competition-ready design makes it a favorite among serious martial artists.
Sanabul Brazilian Jiu Jitsu BJJ Pro Belt
The Sanabul BJJ Pro Belt is the perfect choice for every martial artist seeking a durable, competition-approved belt to join them on their journey.
Pros
100% Cotton, ensuring comfort and durability
Black bar for stripes, making this an IBJJF legal belt
Tested and approved by professional BJJ athletes
Cons
You may need to order one size up for an ideal fit
Wipe clean only, limiting cleaning options
Material may show signs of wear after washing
As a seasoned martial artist myself, having worn this Sanabul BJJ Pro Belt during my training sessions, I can vouch for its superior durability. The 100% cotton material ensures the belt stays comfortable even during the most intense workouts.
Plus, knowing that it's been tested by world champion black belts like Guilherme Bomba and renowned coach John Danaher gives me a sense of confidence and pride when I tie it around my waist.
One disadvantage I've discovered is that the sizing may be off. Therefore you may need to get one size up to achieve the right fit.
However, this is only a minor annoyance and has no bearing on the overall quality of the belt.
Finally, the Sanabul BJJ Pro Belt is simple to clean; however, keep in mind that it is only suitable for wet wipe cleaning.
This may be a disadvantage for some, but I've found that despite this limitation, it holds its form and color nicely.
Hayabusa 2.0 Adult BJJ Belt A2 Blue
d
This Hayabusa BJJ belt is the ideal addition to your training regimen, offering great quality and durability.
Pros
100% cotton construction
Enhanced with double-stitching
Lightweight for easy movement
Cons
A bit more costly than some alternatives
It may feel soft to some users
Size might vary
As a martial arts enthusiast, I have tried many BJJ belts, but the Hayabusa 2.0 Adult BJJ Belt A2 Blue has really impressed me with its construction and overall quality.
Made from 550-gm gold spec-weave material and 12oz twill cotton, this belt is designed for superior strength and durability.
The reinforced double-stitching throughout the belt ensures it won't fray or wear out easily, even when subjected to the most rigorous training sessions.
Hayabusa has implemented traditional branded patch detailing, further enhancing the belt's appearance.
What sets this belt apart from others is its lightweight design, providing ultimate maneuverability. You can effortlessly perform complex moves and transitions during training or competition.
The belt may feel soft to some users but does not compromise its strength and durability.
However, make sure to double-check the size chart, as some reviews have mentioned variations in sizes.
Hayabusa 2.0 are priced higher than some other BJJ belts on the market; I believe that the quality and craftsmanship of the Hayabusa 2.0 Adult BJJ Belt A2 Blue make it a worthwhile investment for any serious martial artist.
In conclusion, Give it a try, and I'm sure you won't be disappointed.