While doing Brazilian Jiu-Jitsu we want shorts that allow freedom of movement because our martial arts focus a lot on grappling & groundwork.
And it is essential for executing techniques and staying agile.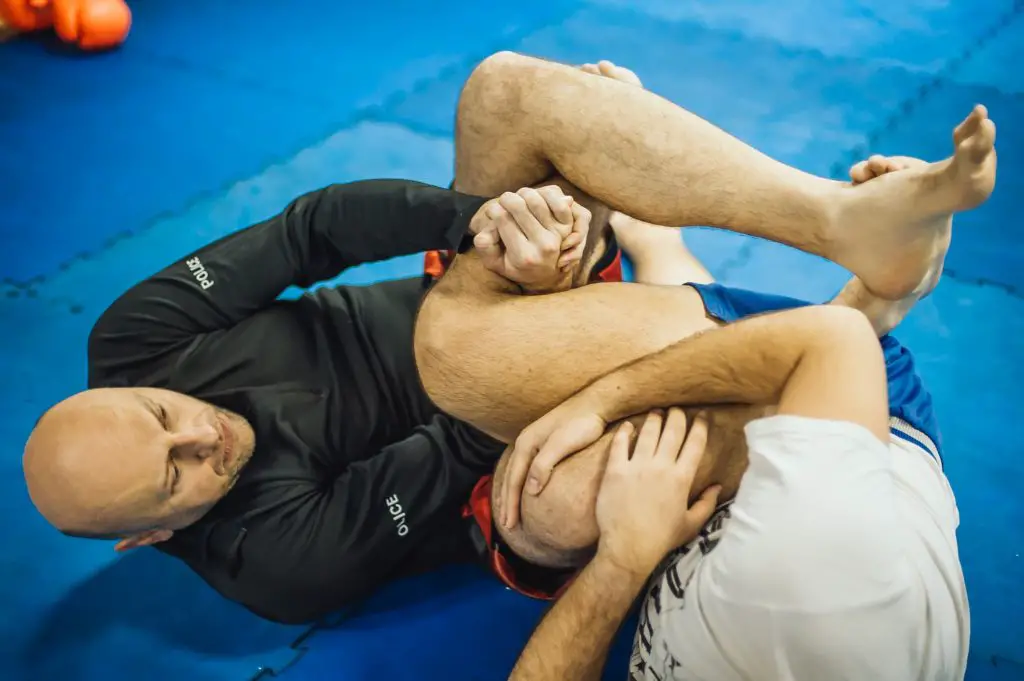 Key factors of good BJJ shorts include flexibility, fit, durability, and design. Choosing the right pair can make all the difference in your performance, ensuring you're always ready for the next round.
In the list of shorts below, we focus on selecting the best fabric type, comfort, and construction that can withstand the rigors of training and competing. These shorts are breathable, moisture-wicking, and stretchable. 💪🥋
Best BJJ Shorts 
The FUJI Baseline Grappling Shorts are the go-to choice if you're seeking durability, comfort, and functionality – all rolled into one stylish package.
Pros
Ultra-lightweight with 4-way stretch performance fabric
Secure fit with inside drawstring and Velcro waistband
360-degree stretch flex panels and saddle gusset for optimal range of motion
Cons
May run smaller than expected size
Light and thin material might not be ideal for everyone
Velcro straps can get damaged in laundry if not properly secured
Hey there, grappler! 😄 Ever been in the heat of a grappling session when suddenly, you're distracted by uncomfortable or ill-fitting shorts?
Don't let that happen to you!
Enter the FUJI Baseline Grappling Shorts – designed to be your trusty companion during those intense training sessions.
What sets these shorts apart is their ultra-lightweight design and 4-way stretch fabric. Trust me, you'll feel the difference when you're able to move freely without being restricted.
Plus, the inside drawstring and Velcro waistband combination ensure a secure fit, so you can focus on honing your skills instead of adjusting your shorts.
While the light and thin material makes them perfect for high-intensity grappling, they might not be ideal for everyone's taste 😅.
And an important note to yourself – secure the Velcro straps before tossing them into the laundry, or you might face damaged straps.
So, my grappling friends, if you want an excellent blend of comfort, style, and performance in your grappling shorts, the FUJI Baseline Grappling Shorts are a solid choice! 👍
These shorts are your go-to choice for superb comfort and excellent mobility during your BJJ training sessions.
Pros
High Flex Crotch for seamless movement
No Velcro, annoying zippers, or pockets
Drawstring and Silicone Grip for a secure fit
Cons
Thin waistband, may feel less robust
Lightweight material may not suit everyone
Waist sizing may lean toward the tighter side
These Artibus BJJ Jiu Jitsu Shorts offer something DIFFERENT from other well-known brands. Designed with a no Velcro waistband, it's comfortable and won't irritate you when rolling hard.
The 4 Way Stretch and High Flex Crotch ensure that your gear ALWAYS moves with you, so you won't find yourself struggling for mobility during those intense rolls.
If you're tired of zippers and pockets getting in the way, these shorts have you COVERED. 😎
No Pockets or Zippers mean no potential injuries or disqualifications due to hardware issues. You can FOCUS entirely on honing your skills.
Now, there's a catch.
Some users find them too lightweight. If you prefer sturdier shorts, these may not be your favorite pair.
With thinner waistbands, these Artibus shorts might also feel less robust than their beefier counterparts.
Those who crave a modern, sleek, and no-frills SHORT design will find this Artibus BJJ Jiu Jitsu Shorts ideal for their grappling, MMA, wrestling, Muay Thai, and boxing endeavors.
Keep in mind that the waist size might be tighter than expected, so it wouldn't hurt to order a size up.
These Gold BJJ Jiu Jitsu Shorts are a top choice for grapplers seeking quality, comfort, and IBJJF approval.
Pros
Exceptional stretch for unrestricted movement
No pockets for hassle-free IBJJF compliance
Versatile for various sports, not just BJJ
Cons
Sizing may run smaller than expected
Some users report issues with stitching
Waistband drawstring system could be improved
These shorts have an impressive stretch, allowing you to focus entirely on your techniques and transitions without worrying about gear limitations.
They're made from 100% polyester and feature a secure drawstring, specifically redesigned to prevent getting pulled all the way through the waistband.💪
Gold BJJ makes sure there are no pockets, ensuring these shorts stay within IBJJF regulations. So, you'll never run into those pesky DQ situations during competitions. 🥋
Besides BJJ, they're a solid choice for kickboxing, wrestling, MMA, Muay Thai, and even lifting weights. 🏋️‍♂️
However, it's worth noting that these shorts might run smaller than expected. So, consider sizing up when purchasing.
Some users also reported issues with stitching, but the company is generally responsive and willing to resolve such situations.
The Gold BJJ Jiu Jitsu Shorts prove to be comfortable, versatile, and competition-ready. 👊
They make for an excellent addition to your No-Gi wardrobe. Give them a try, and take your grappling game to new heights! 🌟
Elite Sports MMA Fight Shorts are perfect for those seeking top-notch PERFORMANCE in BJJ, MMA, or UFC.
Pros
Comfortable, flexible, and lightweight
Durable microfiber fabric
Side slits for improved leg work
Cons
Elastic waist and drawstring might not work for everyone
Microfiber may not be everyone's preferred fabric
Limited color options
These shorts certainly live up to the hype. With their lightweight, DURABLE microfiber fabric, you'll feel like Bruce Lee doing high kicks and transitions.
The flexible material won't hold you back, so unleash your inner martial artist! 😎
The clever elastic waistband and drawstring combo ensure a SECURE fit during intense training sessions.
You'll be RELIEVED that the shorts won't fall during heated sparring exchanges. After all, nobody wants a wardrobe malfunction when they're trying to channel their inner Conor McGregor.
During a particularly sweaty session, you may find that the microfiber felt a bit clingier. This might be a MINOR drawback for some, but it may not significantly hinder your game. 👊
Finally, these shorts come in a classic black color – perfect for those who prefer a timelessly stylish look on the mat. While some might crave more COLOR VARIETY, I found it sleek and professional.
Overall, Elite Sports Men's MMA Fight Shorts provide excellent VALUE for both casual and professional fighters alike. So go ahead, put them on, and become the champion you're destined to be! 🥋
Rock your next training session with these lightweight and fast-drying LAFROI shorts.
Pros
Double secure with Velcro and drawstring
Anti-tear, tear-resistant microfiber fabric
Multi-use for various martial arts and sports
Cons
Sizing may run small
Limited room in the crotch area
Lighter fabric may feel delicate for some
They fell incredibly light, and it is a relief not to worry about your shorts coming undone—thanks to the double secure Velcro and drawstring combo.😅
Bonus points for the shorts being compatible with multiple sports, like MMA, Muay Thai, and even water sports!⚠️
Be mindful when selecting your size, as these shorts may run a little small.
Though breathable and quick-drying, their thin fabric can seem too delicate or flimsy for some tastes. And if you prefer a bit more room in the crotch area, that may be a slight issue.
🤼‍♂️To sum it up, the LAFROI Men's MMA Cross Training Boxing Shorts are a solid choice for your sporting needs—make sure to consider the sizing and fabric preferences before purchasing.
You're bound to make a stylish splash at your next training session with these nifty shorts!
Our Top Pick:
Buying Guide
Time to find the best BJJ shorts for you! 😃 When it comes to getting the most out of your training, the right gear is crucial.
Let's dive into the essential features you need to consider when choosing the perfect pair.
Comfort and Fit
In BJJ, comfort is king. Focus on fit and material. A snug fit prevents your opponents from grabbing your shorts while rolling.
Consider shorts with a stretchy waistband to accommodate any weight fluctuations. Materials like polyester and spandex offer a comfortable feel and adequate stretch.
Durability
BJJ shorts need to withstand some serious wear and tear. Look for reinforced stitching around stress points (waistbands, hems, and seams).
This ensures your shorts can handle constant gripping and tugging by you and your training partners.
Style and Design
Choose a pair that reflects your personality while staying practical. Go for shorts with sublimated graphics — this technique embeds the design directly into the fabric, making it fade-proof and crack-resistant.
Avoid shorts with too many pockets, zippers, or metal parts that can injure you or your opponent.
Moisture-Wicking and Quick-Drying
You surely will work up a sweat in BJJ! 😅
Opt for shorts with moisture-wicking and quick-drying properties. These fabrics pull sweat away from your skin and dry fast, keeping you fresh during even the most intense sessions.
Remember, the most important thing is to find a pair of shorts that fits your training needs and makes you feel confident.
Focus on these features, and you'll be well on your way to choosing the best BJJ shorts for your journey. Happy shopping and enjoy your BJJ journey! 🥋
Frequently Asked Questions
What's the secret to an unrippable BJJ short?
Unrippable BJJ shorts: what's the SECRET? 😮
Look for reinforced stitching and high-quality materials. Flexible fabrics like polyester and spandex provide durability and comfort. Your shorts won't let you down during intense rolls! 😉✌🏻
Which RVCA shorts should I rock for my next roll?
Choosing RVCA shorts? 🤔 
Function and style go hand in hand! Aim for shorts with a secure fit (think: waistband), unrestricted movement 🕺, and a touch of your personal style.
Your dojo mates will envy your top-notch attire! 😎👌🏻
How do Phalanx shorts feel on my dojo strut?
Ever strutted in Phalanx shorts? 🚶🏼‍♂️
Expect lightweight, quick-drying fabric and four-way stretch. These shorts ensure you'll be strutting comfortably through your dojo!
There are no compromises on style, comfort, or performance. 🌟🥋
Compression shorts: a fashion statement or BJJ necessity?
Compression shorts: more than just a fashion statement! 😱
They reduce muscle fatigue and improve blood circulation. Plus, they provide added protection beneath your shorts.
So don't shy away from rocking this BJJ necessity! 💪🏻
No Gi style tips: Fuji shorts or Ranked?
Fuji shorts or Ranked? 🤨
Go for ACTIVE PERFORMANCE!
Both offer a great fit and durability, but personal preference is key. Find the one that best SUITS your style and get ready to shine on the mats. 🤩🥋